Why go out to eat when you can make the same tasty food at home for a fraction of the price?  We love Asian dumplings and make them on a regular basis.  They're a particular favorite of our 2-year-old daughter, who loves anything that comes with a dipping sauce.  She helps out in the kitchen, kneading the dough, and with practice, she's now able to shape basic dumplings.
Our very first dumpling attempt was inspired by Asian Dumplings: Mastering Gyoza, Spring Rolls, Samosas and More. This comprehensive recipe book covers dumplings from China, Mongolia, Tibet, Thailand, Malaysia, the Philippines and beyond. More importantly, it has detailed pictures that show you exactly how to form and wrap your own dumplings.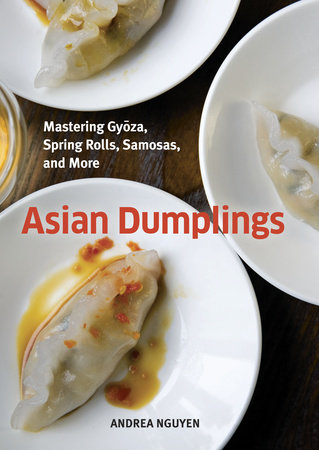 Once you can wrap your own dumplings in homemade dumpling wrappers, the sky is the limit!
Everything in this book gives clear, detailed instructions on how to properly prepare all parts of the dumpling from scratch.  So commonly, recipes for samosas begin with "buy samosa wrappers at the store."  If I wanted to do that I might as well just buy some premade samosas and call it a day.  Some recipes span 3-4 pages with exacting descriptions of how to get the dough consistency just right.  Stick drawings show clearly how to perfectly fold your dumplings once you're through.  Everything is there to take a first-time cook or experienced chef through every step to make the perfect dumplings.
Nguyen also offers instructions for shortcuts, for example, "Lazy Day Tip: Have no shame.  Many busy modern Asian cooks turn to ready-made puff pastry for rich treats like curry puffs and samosas…purchase the all butter variety if you can…"  She goes on to provide instructions for spending the day cooking milk down for "Milk Dumplings in Cardamom and Saffron Syrup" but afterward goes through a shortcut, "Cooking milk down is labor intensive, and many modern Indian cooks instead use nonfat dry milk powder to great success."
While each recipe includes some history and cultural information, to put the dish into perspective, it is first and foremost a cookbook rather than a travel log, with the focus on helping you create delicious food.
We've adapted one of the recipes, and cooked it up to share.  Click for my recipe for Homemade Pork Gyoza.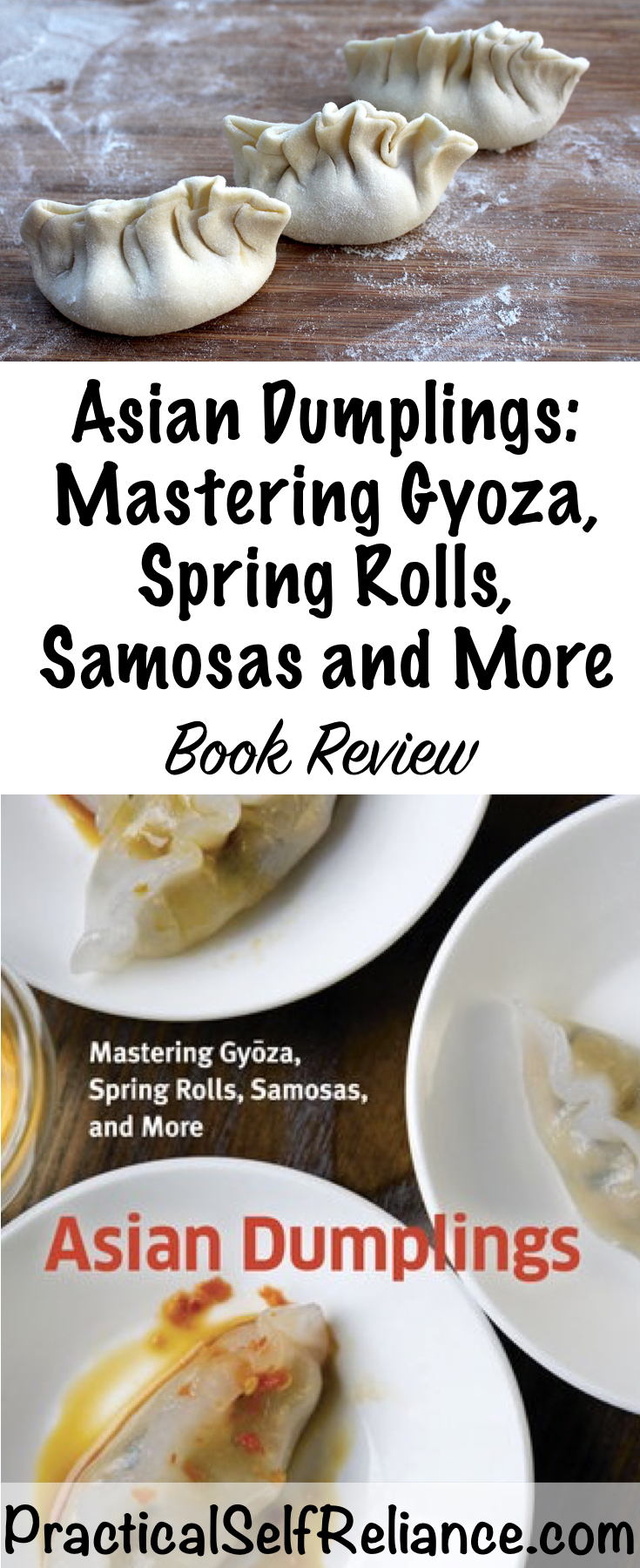 Nine Chapters Include:
1. Filled Pasta
-Basic Dumpling Dough
-Pork and Napa Cabbage Water Dumplings (Shuijiao)
– Meat and Chinese Chive Pot Stickers (Shuijiao)
-Steamed Vegetable Dumplings (Zhengjiao)
-Fish and Chinese Chive Dumplings (Yujiao)
-Japanese Pork and Shrimp Pot Stickers (Gyoza)
-Kimchi Dumplings (Kimchi Mandu)
-Korean Meat and Vegetable Dumplings (Gun Mandu)
-Korean Dumpling Soup (Mandu Guk)
-Mongolian Meat and Caraway Pockets (Khuushuur)
-Nepalese Vegetable and Cheese Dumplings (Tarkari Momo)
-Spiced Lamb Dumplings (Kashi Momo)
-Tibetan Beef and Sichuan Pepercorn Dumplings (Sha Momo)
-Shanghai Soup Dumplings (Xiaolongbao)
-Shape instructions for Half-Moon, Pea Pod, Big Hug, Pleated Crescent, Rope Edge and Closed Satchel
2. Thin Skins
-Wonton, Siu Mai, and Cantonese Spring Roll Skins (Yuntun Pi, Shaomai Pi, Guangdong Chunjuan Pi)
-Fried Wontons (Zha Yuntun)
-Shrimp Wonton Soup (Yuntun Tang)
-Siu Mai Open-Faced Dumplings (Shaomai)
-Cantonese Char Siu Pork and Vegetable Spring Roll (Guangdong Chunjuan)
-Shanghai Spring Roll Skins (Shanghai Chunjuan Pi)
-Shanghai Pork, Bamboo, and Mushroom Spring Rolls (Shanghai Chunjuan
-Filipino Shrimp, Meat, and Vegetable Spring Rolls (Lumpia)
-Shape instructions for Wontons, Open Bag and Cigar
3. Stuffed Buns
-Basic Yeast Dough (Famian)
-Steamed Filled Buns (Zheng Bao)
-Baked Filled Buns (Ju Bao)
-Char Siu Pork Bun Filling (Chashao Bao)
-Vegetable and Tofu Bun Filling (Cai Bao)
-Curried Chicken Bun Filling (Gali Ji Bao)
-Filipino Chicken and Egg Buns (Siopao)
-Panfried Pork and Scallion Mini Buns (Sheng Jian Baozi)
4. Rich Pastries
-Beef, Sweet Potato and Raisin Turnovers (Empanadas)
-Simple Flaky Pastry
-Spicy Potato Samosas (Aloo Samosa)
-Shrimp, Pork and Jicama Turnovers (Banh Quai Vac Chien)
-Chinese Flarky Pastry (Su Bing Pi)
-Daikon Radish and Smoky Ham Cakes (Luobo Si Su Bing)
-Curry Puffs (Karipap)
-Potato and Lamb Curry Puff Filling (Karipap Daging)
-Spicy Sardine Puff Filling (Karipap Sardin)
5. Translucent Wheat and Tapioca Starches
-Wheat Starch Dough
-Har Gow Shrimp Dumplings (Xia Jiao)
-Chiu Chow Dumplings (Chao Zhou Fen Guo)
-Vegetarian Crystal Dumplings (Chai Kuih)
-Scallop Dumplings (Daizi Jiao)
-Chinese Chive Dumplings (Jiucai Jiao)
-Vietnamese Tapioca Water Dumplings (Banh Bot Loc Tran)
-Thai Tapioca Pearl Dumplings (Saku Sai Mu)
6. Transformations of Rice
-Rice Shet Batter (He Fen Mi Jiang)
-Shrimp Rice Noodles (Xia Chang)
-Beef and Orange Rice Rolls (Niu Rou Chang)
-Chicken and vegetable Rice rolls (Ji Si Chang)
-Dried Shrimp Scallion Rice Rolls (Xia Mi Chang)
-Fried Sticky Rice Dumplings (Xian Shu Jiao)
-Char Siu Pork and Mushroom Filling (Chashao Xian Shui Jiao)
-Vegetable and Shrimp Filling (Shu Cai Xian Shui Jiao)
-Steamed Sticky Rice Dumplings with Shrimp and Pork (Banh It)
-Sticky Rice and Chicken in Lotus Leaf (Nuo Mi Ji)
-Sticky Rice and Spiced Chicken in Banana Leaf (Lemper Ayam)
7. Legumes and Tubers
-Fried Mung Bean Dumplings (Moong Dal Vada)
-Tangy Spiced Potato Dumplings (Batata Vada)
-Sweet Potato, Shrimp, and Lemongrass Dumplings (Cucur Badak)
-Taro Puffs (Yu Jiao)
8. Sweet Treasures
-Fried Banana Spring Rolls (Turon)
-Spiced Pineapple Filled Pastries (Kuih Tart)
-Milk Dumplings in Cardamom and Saffron Syrup (Gulab Jamun)
-Sesame Seed Balls (Ma Tuan)
-Sweetened Red Bean Paste (Hong Dou Sha)
-Sweetened Mung Bean Paste (Nhan Dau Xanh Ngot)
-Sweet Rice Dumplings with Palm Sugar and Coconut (Onde Onde)
-Sticky Rice and Mung Bean Dumplings in Ginger Broth (Che Troi Nuoc)
-Banana and Coconut Sticky Rice Packets (Kao Tom Padt)
9. Sauces, Seasonings, Stocks and Other Basics
-Tangy Soy Dipping Sauce
-Korean Dipping Sauce
-Chile Oil
-Chile Garlic Sauce
-Sweet Soy Sauce
-Sweet and Sour Sauce
-Spicy Roasted Tomato Sauce
-Garam Masala
-Fresh Mint Chutney
-Tamarind and Date Chutney
-Green Chutney
-Coconut Dessert Sauce
-Chicken Stock
-Korean Beef Stock
-Char Siu Pork
-How to Crack, Grate and Shred Coconut
I received this book from Blogging for Books for this review.
The following two tabs change content below.
I'm an off grid homesteader in rural Vermont and the author of Practical Self Reliance, a blog that helps people find practical ways to become more self reliant.
Latest posts by Ashley Adamant (see all)