Pumpkin is just one of those flavors that goes well with cream. Instead of worrying about topping your homemade pumpkin pie with whipped cream, try making pumpkin cheesecake. This easy pumpkin cheesecake recipe doesn't need any topping to steal the show at your holiday table.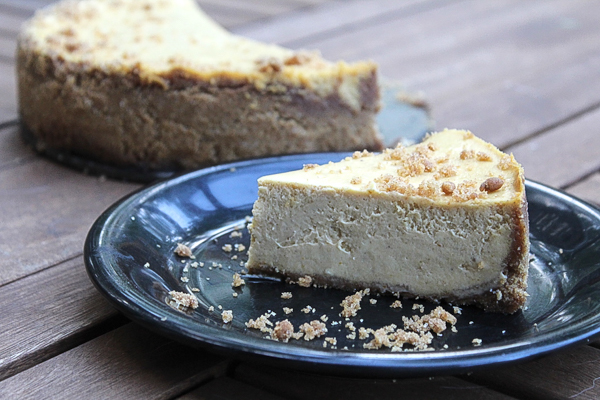 There are so many ways to make a cheesecake. Some recipes include flour in the batter, others cornstarch, sour cream, heavy cream or half a dozen other extra ingredients trying to get the perfect silky texture. While I always remember to buy cream cheese when I want to make a homemade cheesecake, I never remember the others. Who keeps heavy cream in the fridge? It spoils almost instantly!
When you're adding pumpkin into a cheesecake, it helps to lighten the texture and there's no need to add sour cream or heavy cream.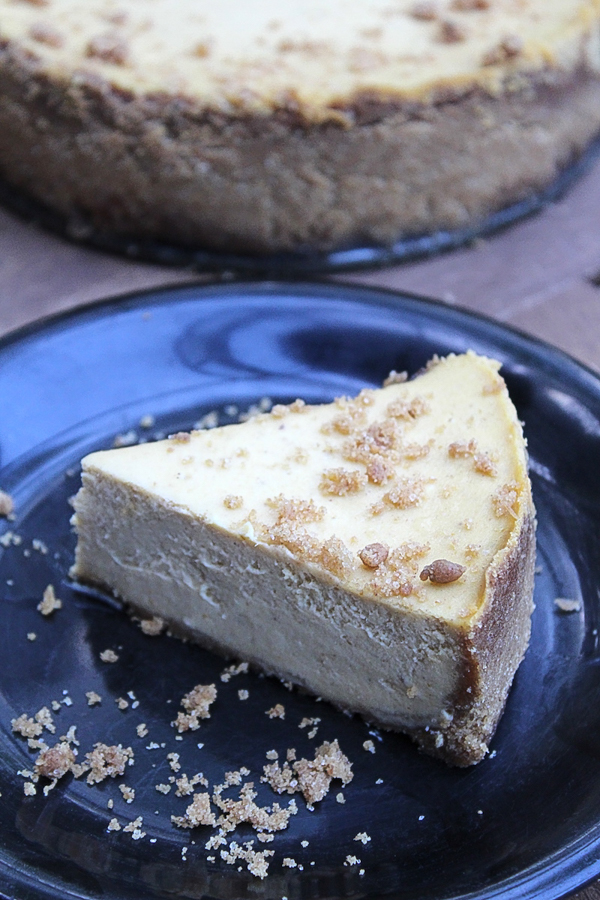 Simple ingredients make for a tasty cheesecake, and simple measurements mean easy execution. There's no "one cup plus 1 tablespoon" type measurements here. That helps make this recipe very easy to scale.
A full batch makes a standard 9" springform pan, but all the ingredients are easily divided by 4. I'll make a 3/4 recipe to fill my 8" pan for a smaller gathering. A 1/2 recipe is the perfect size to make in an instant pot with a 7" springform pan. All the way down to a 1/4 batch that makes the perfect dessert for 2 in my tiny 4" springform pan.
The pans are often sold in sets, including a 9, 7 and 4-inch pans to make layer cakes, and a set of those gives you plenty of choices for your holiday cheesecake.
The only thing that's tricky about this recipe is that it doesn't use a whole can of pumpkin. That doesn't matter if you're using your own fresh pumpkin puree. It's easy enough to make, especially if you have an instant pot. You can cook a whole pumpkin in an instant pot, no cutting required, and then easily puree it. If you are using a can of pumpkin, the extra can be made into these tasty pumpkin almond butter muffins or dehydrated into pumpkin powder for sprinkling on other recipes.
Easy Pumpkin Cheesecake
This easy pumpkin cheesecake recipe has a rich pumpkin flavor and simple ingredients. Scale this recipe to make it in any size springform pan.
Ingredients
1 1/3

cups

graham cracker crumbs

(roughly 10 full graham crackers)

4

tbsp

butter

melted

32

oz

cream cheese, room temperature

Four 8 ounce packages

1

cup

sugar

1

cup

pumpkin puree

2

tsp

pumpkin pie spice

1

tsp

vanilla extract

4

large

eggs
Instructions
Preheat the oven to 350 degrees and bring the cream cheese and eggs to room temperature.

Pulse graham crackers in a food processor to make crumbs and then add melted butter. Pulse to mix, and then press into the bottom of a 9'' springform pan. Allow the crumbs to come slightly up the sides of the pan. Wrap the bottom of the pan in foil and place in the refrigerator or freezer to set while preparing the filling.

Add room temperature cream cheese to a stand mixer and beat with a paddle attachment until smooth.

Add in sugar, pumpkin puree, pumpkin pie spice and vanilla. Blend on low until fully incorporated, scraping down the bowl as necessary.

Add in the eggs one at a time. Do not add the next egg until the previous one is fully incorporated. Each one will take about 1 minute of blending with a paddle on low.

After the last egg is incorporated, turn off the stand mixer. Be careful not to overmix the batter. Incorporating too much air will make a souffle and the cheesecake can rise and expand over the edges of the pan.

Pour the pumpkin cheesecake batter into the prepared crust. Place the pan on a large baking tray with sides in the oven (ie. brownie pan or high sided cookie sheet). Pour water into the baking tray until it's about 1/2 an inch deep. Close the oven and bake for 75 minutes at 350 degrees.

At the end of the cook time, remove the cheesecake from the oven. The water will have evaporated and the foil on the bottom of the pan will keep the crust from getting moist. The water is optional, but it will keep the cheesecake from burning or cracking on the top.

Allow the cheesecake to cool completely before eating.
The following two tabs change content below.
I'm an off grid homesteader in rural Vermont and the author of Practical Self Reliance, a blog that helps people find practical ways to become more self reliant.
Latest posts by Ashley Adamant (see all)