Believe it or not, harvesting pears can be tricky.  Unlike apples, pears cannot ripen fully on the tree and they have to be picked weeks before they're fully ripe.  That's good news for the supermarket, where they want the fruit to wait in warehouses or trucks for weeks on end before it hits your table.  But how do you harvest the perfect pear from a backyard pear tree?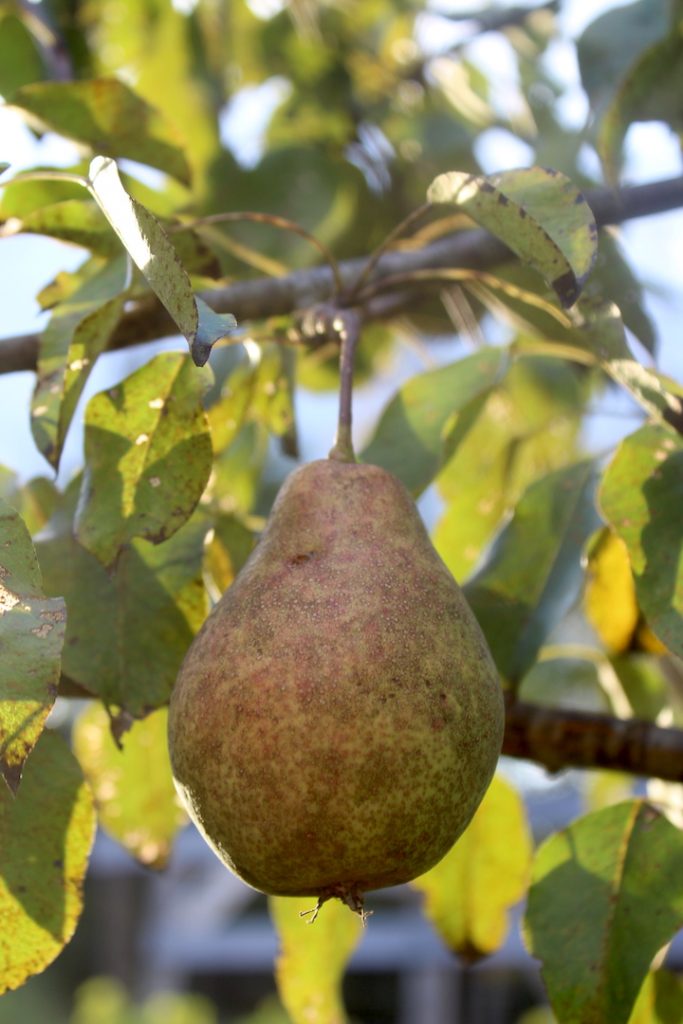 Ralph Waldo Emmerson is quoted as saying, "There are only 10 minutes in the life of a pear when it's perfect to eat."  Those ten minutes happen on the countertop, weeks after the pear has been picked.
Pears ripen from the inside out, and if a pear seems perfectly ripe on the tree, it's already too far gone.  In the grocery store, we're taught to squeeze the neck of the pear and make sure it just barely dents to finger pressure.  But if a pear gives to pressure on the tree, you're way too late.  The inside will be brown and spoiled, and you may assume that your pear tree was hit by some kind of worm or disease.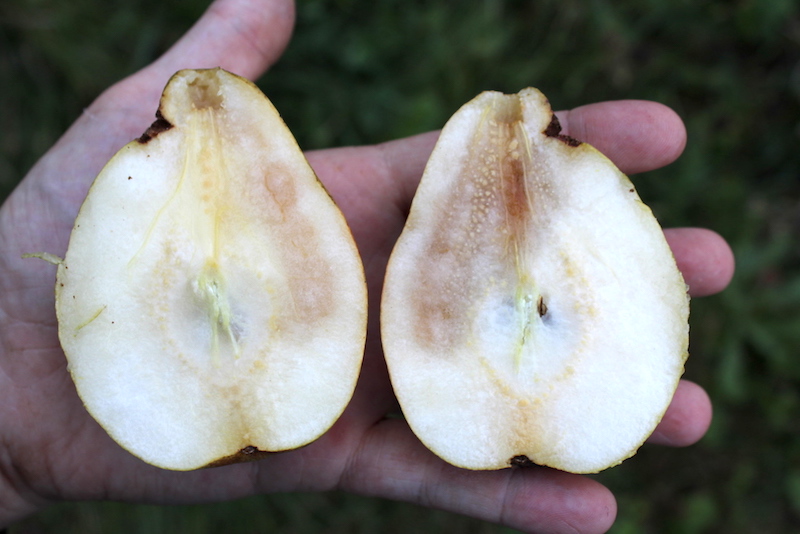 For the first few years as a proud pear tree steward, I just couldn't get it right.  The pears can't possibly be ripe yet!  It's too early I'd tell myself, and then time and time again they'd be spoiled before they hit my countertop.  Add to that the fact that our pear tree is huge, and most of the pears are far out of reach, and we rarely harvested the perfect pear.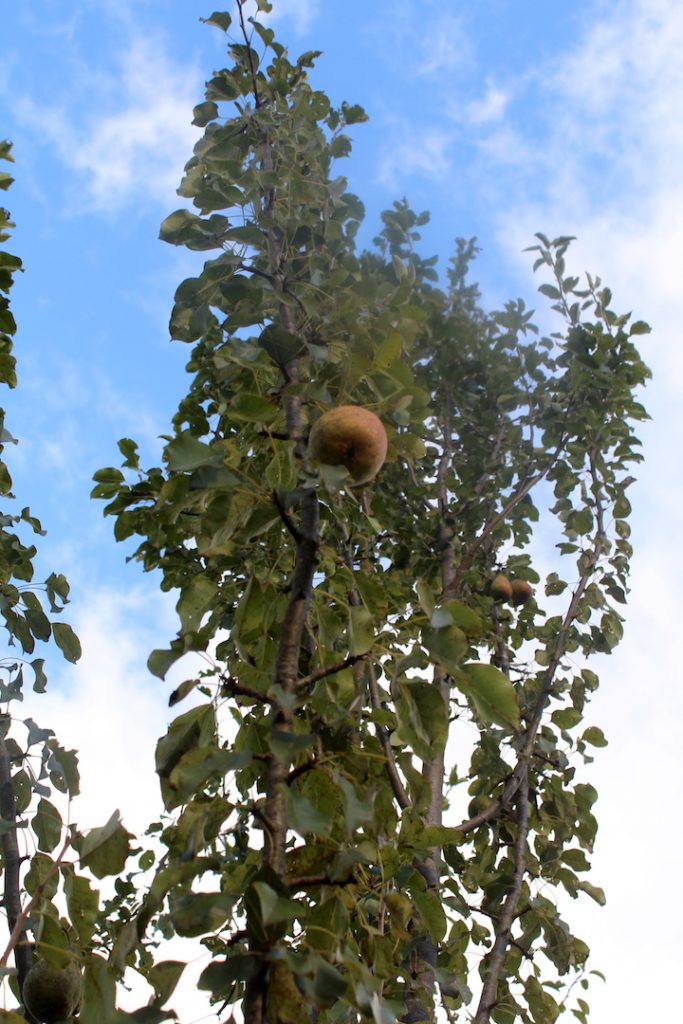 Start by looking up the ripening time for your pear variety.  We have a Cabot pear, a rare variety of pear with showy double blossoms that ripens in Mid-September.  The catalogs say "Medium size fruit. Extremely winter hardy. Flesh is melting, sweet, aromatic and good for fresh eating."
In mid-September, that "aromatic" pear flesh tastes a bit like styrofoam, but none the less they must be picked in Mid-September.  After 2 weeks on the counter, they're perfect and melt in your mouth.
Pears generally ripen sometime between late July and Early October, so if you don't know the variety it can be tricky to determine the best harvest time.  If you don't know the variety, the next step is to use the stem test.  Hold the pear in your hand and tilt it horizontally.  If the stem breaks, it's ready for harvest.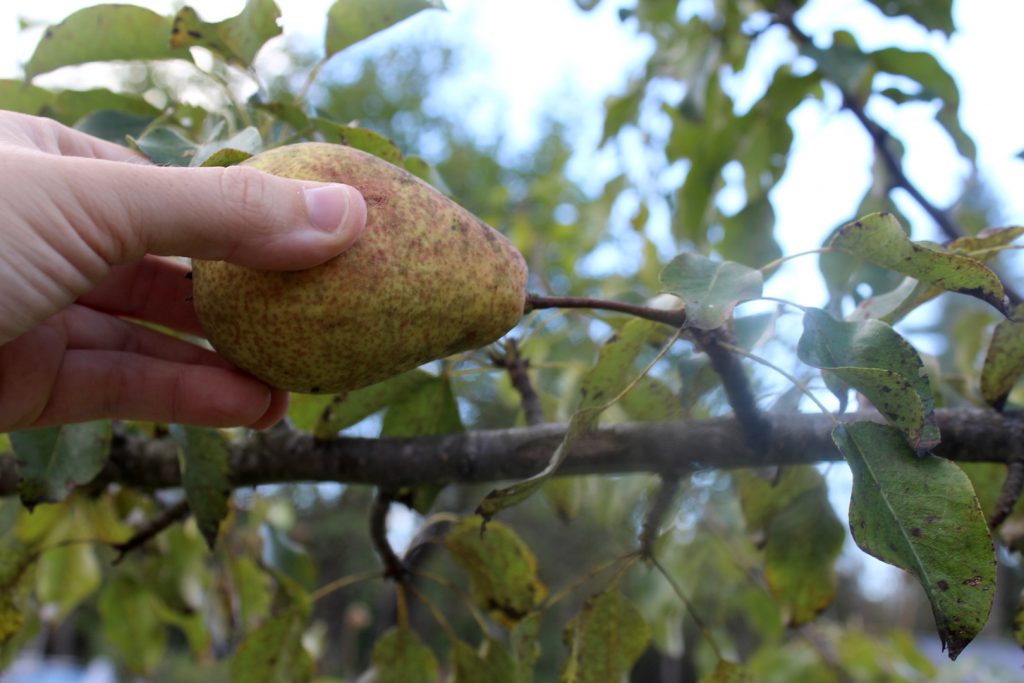 After about a week on the counter, the pear flesh will soften and the flavors will mature.  To speed up the process, place the fruit in a brown paper bag.  Conversely, if you're harvesting a tree just covered in fruit, you may want to delay ripening.  In that case, keep the fruit in the refrigerator and pull them out a few days before you plan on using them.  Or, ripen them all at once and make a delicious batch of pear cider or pear butter.  It's up to you…
Once you've done the ripeness test on the fruit on the lower branches, it's time to harvest the fruit high up on the tree.  Pears need to be handled carefully so they don't bruise.  Damaged fruit will spoil on the counter before it ripens, so it's best to use a long-handled fruit picking tool.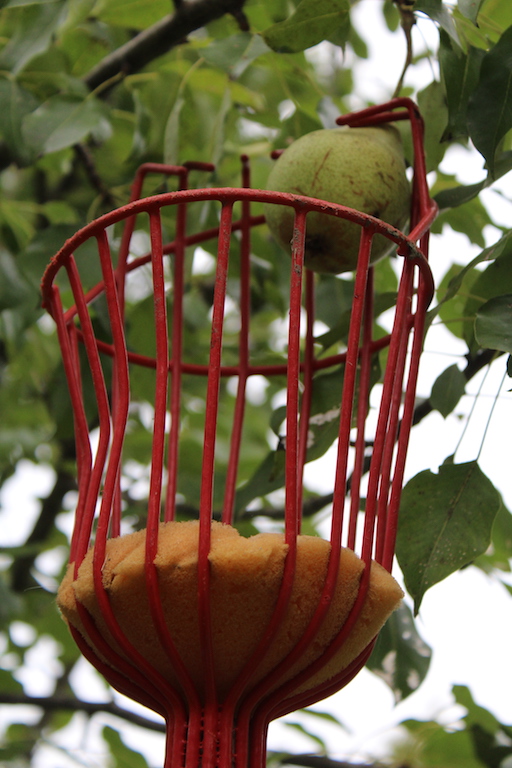 These days, they come with aluminum handles that quickly extend out to the perfect height.  I still have an old-school wooden one that assembles with two wing nuts.  It's a bit unwieldy, but it gets the job done.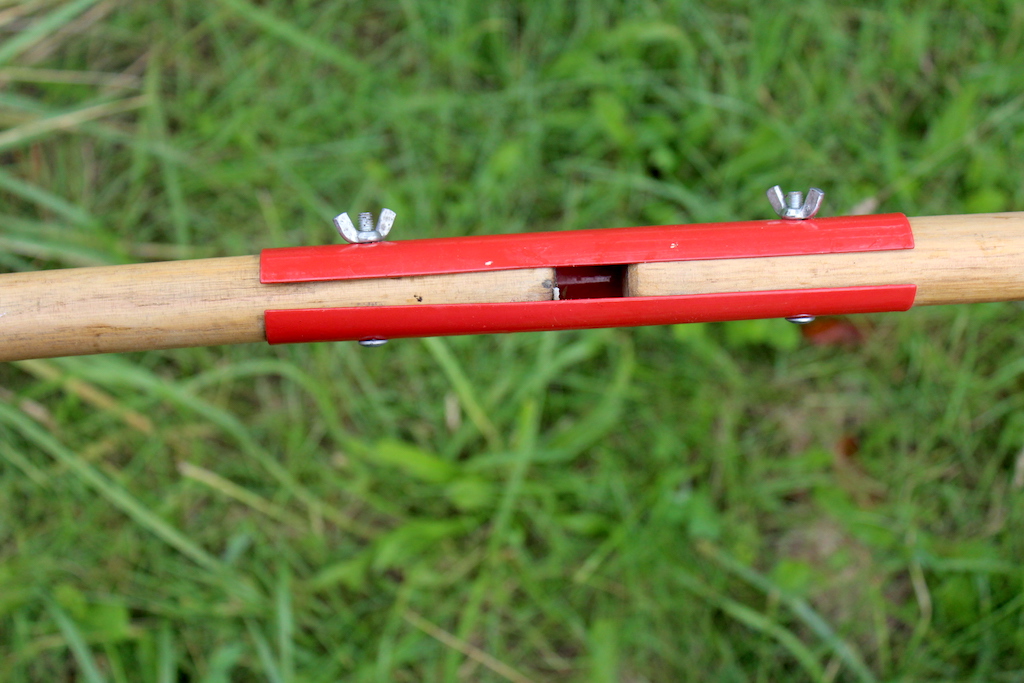 A fruit picker will allow you to reach about 20 feet up into the tree, which is just enough for the highest fruits on our tree.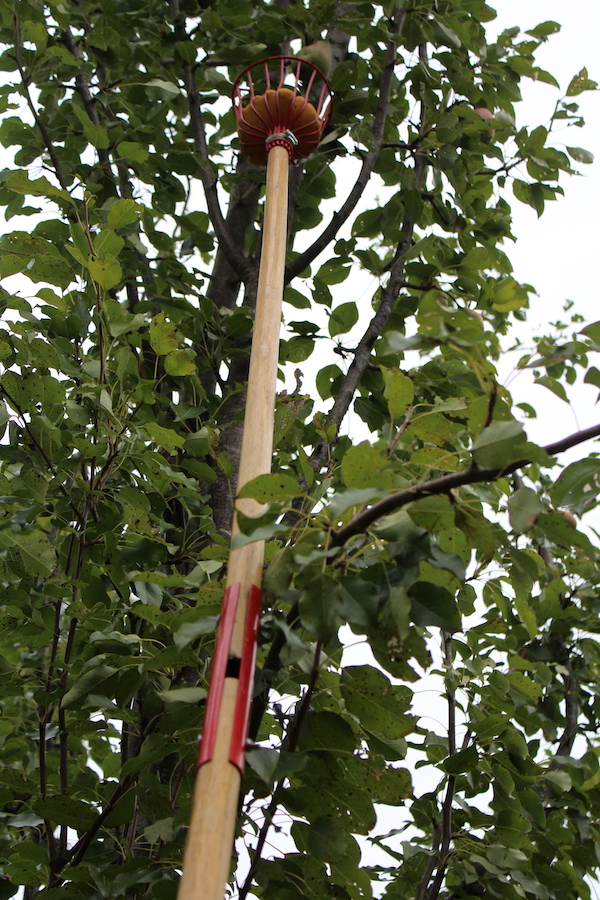 While I find the fruit unpalatable right off the tree, by tiny baby assistants didn't really seem to mind.  They demolished the hard pears without a second thought, perhaps excited that they got to use the special pear picking tool.  With a parent to steady their hand, it's easy enough for a 3 year old to pick their own fruit from even the highest branches.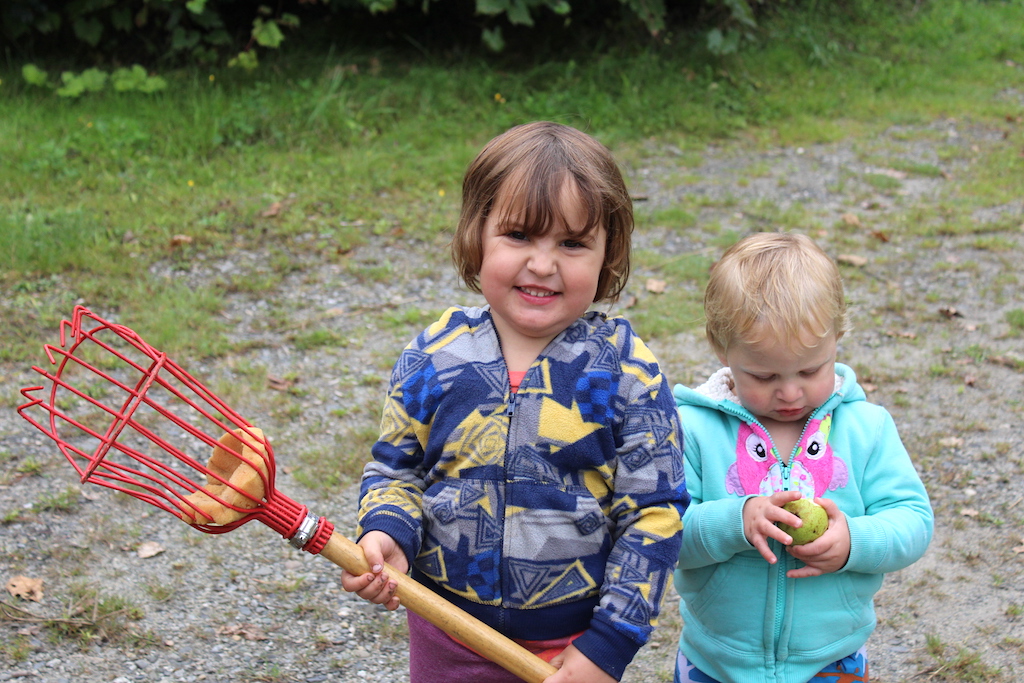 Keep in mind, if you're growing asian pears, they ripen completely differently.  Asian pears, like apples, should be allowed to ripen fully on the tree.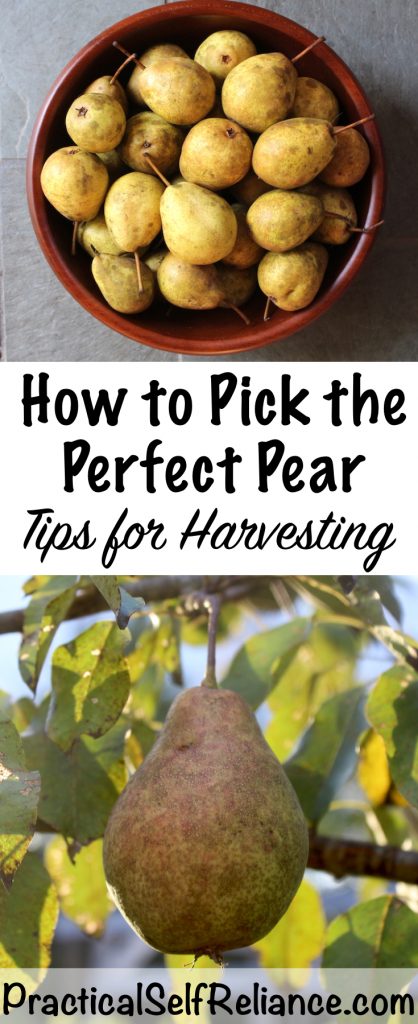 The following two tabs change content below.
I'm an off grid homesteader in rural Vermont and the author of Practical Self Reliance, a blog that helps people find practical ways to become more self reliant.
Latest posts by Ashley Adamant (see all)