Pinto beans are delicious and an inexpensive way to get a meal on the table.  They're versatile, and can be a full meal on their own or used as part of tacos,  soups, stews, cold bean salads or refried bean dip.
A single pound of dry beans costs about $1, and makes about 6 cups of cooked beans.  That's enough to supply my bean loving family of 4 all week long.  And the best part is, I know I have a quick meal waiting in reserve pre-cooked.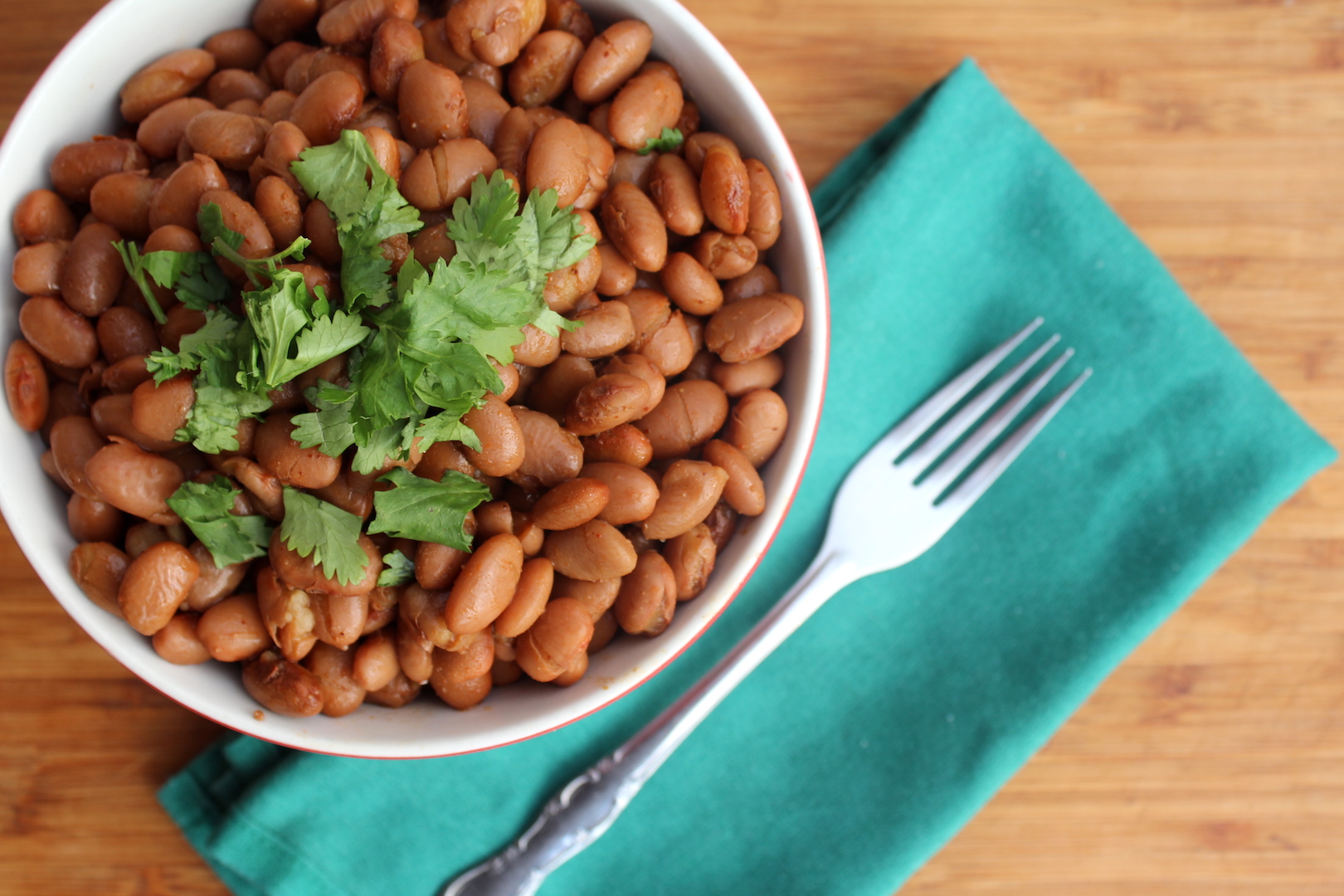 Problem is, traditional stovetop cooking takes FOREVER!  A slow simmering pot of beans can take about two and a half hours to cook, with you checking on it and stirring it every few minutes.
I was skeptical about the instant pot.  I didn't want another kitchen gadget.  That is, until I learned that I could cook beans start to finish, almost completely hands off, in less than an hour.
No more watching them.  No more stuck on burned beans at the bottom of the pot.  And in the summertime, no more hot steamy kitchen.
This recipe yields rich flavorful beans that are a far cry from plain watery canned beans.  Trust me on this one.  Once you have home made (with almost no work) you'll never go back to canned.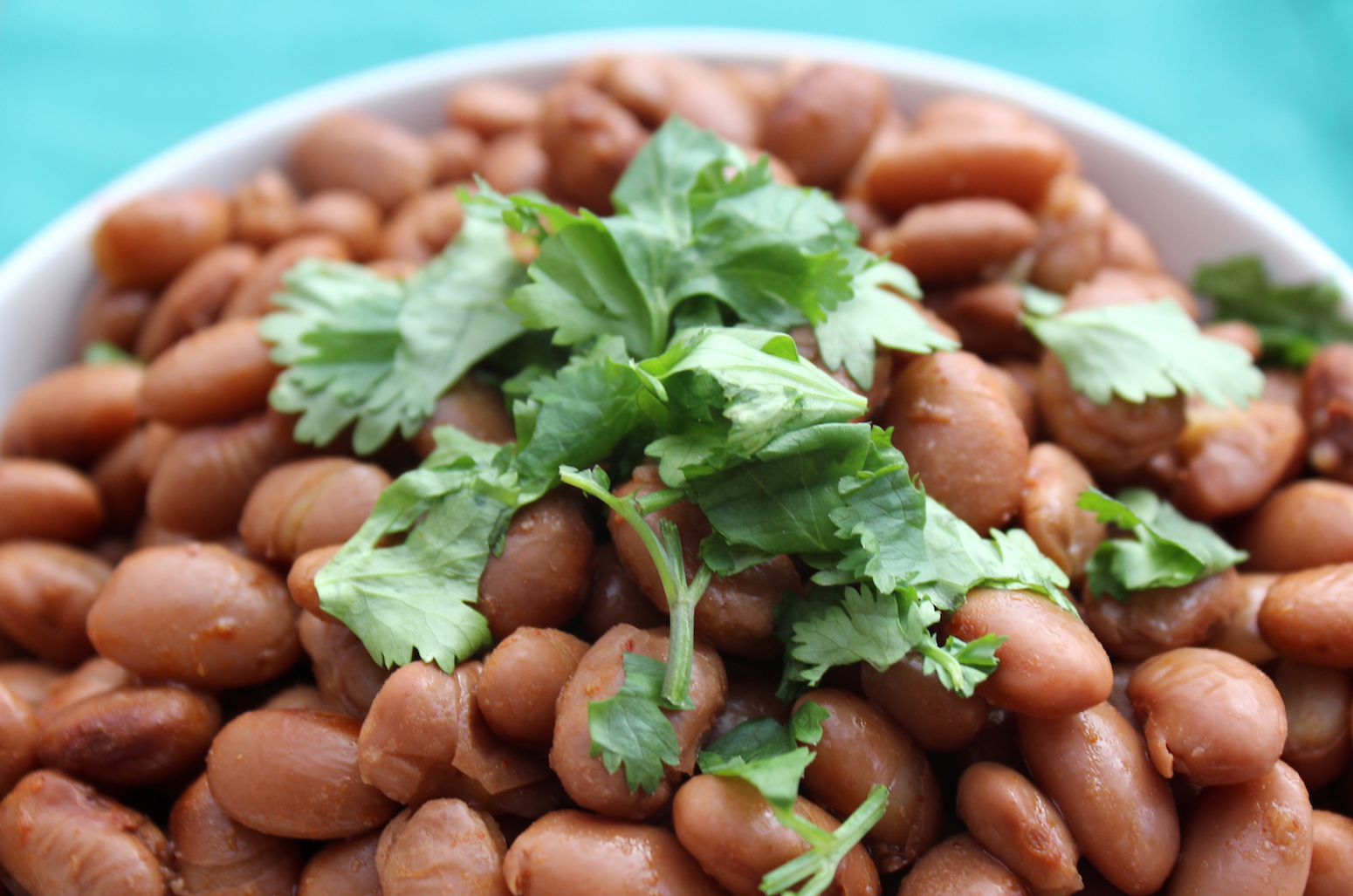 Instant Pot Pinto Beans (No Soak Recipe)
Yield: 6 cups beans
Pressure Cook Time: 35 minutes
Pressure Level: High
Total Time: 1 hour
1 pound pinto beans (2 cups)
1 large onion, chopped (optional)
4 cups broth or stock
4 cups water*
1 tablespoon cumin, ground
1 teaspoon chili power
1 teaspoon garlic granules (or powder)
1 teaspoon salt**
Add all ingredients directly into your instant pot and stir to distribute the seasoning.
Seal the instant pot lid and set the steam valve to sealed.
Set the pot to pressure cook for 35 minutes at high pressure.
The pot should take about 10 minutes to come up to temperature before beginning the pressure cooking cycle.
Allow the beans to cook for 35 minutes at high pressure.  When the cycle ends, allow the pot to cool for at 15-20 minutes (natural depressurization) before switching the steam vent over to "venting."  Allow all the steam to vent before opening.
Open the pot, being careful to tilt the lid away from you as you lift it to direct the steam away from you.
Use a slotted spoon to serve the beans, leaving the cooking liquid behind.
Enjoy!
*If you've planned ahead and soaked your beans overnight, you can skip this extra 4 cups of water.  Overnight soaked beans only need about a quart of liquid, while dry un-soaked beans need two quarts (8 cups).  If your beans are presoaked, they only require 28-30 minutes of pressure cook time.
**Most recipes for beans have you add 2 full teaspoons of salt per pound of beans.  I found this makes them quite salty, and I prefer 1 teaspoon.  Adjust to your own tastes.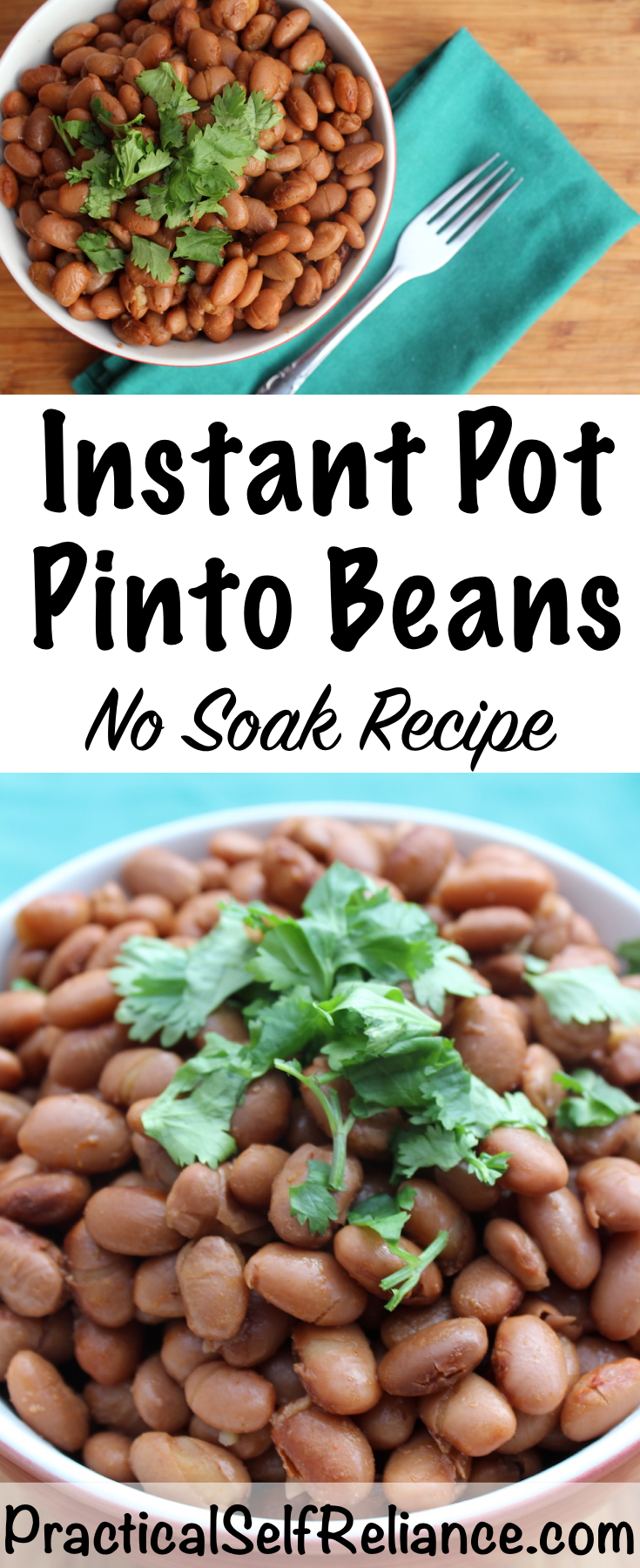 The following two tabs change content below.
I'm an off grid homesteader in rural Vermont and the author of Practical Self Reliance, a blog that helps people find practical ways to become more self reliant.
Latest posts by Ashley Adamant (see all)