A while back my friend Kimberlee wrote a guest post about her year-long self-reliance challenge.  She challenged herself to learn a new homestead skill every single week for a full year, and in the end, she had learned 52 homestead skills just by setting a goal and holding herself accountable.
A full year is a big commitment.  Why not just start with one month?  What can you do this month to improve your self-reliance?
Start by setting a goal, and not just any goal.  Your goals need to be SMART, which stands for specific, measurable, achievable, relevant and timely.
If you say, "I want to learn to bake bread," it's hard to actually accomplish that goal.  Even the best bakers have more to learn, and almost any loaf could be just a bit better.  Try a smart goal instead: "This month, I'm going to bake a loaf of bread each week."
It's specific, measurable and attainable – one loaf of bread.  It's also relevant to your goal of learning to bake bread, and timely because you set a bounded time limit of this month and one loaf a week.
Beyond setting smart goals, a big part of achieving any goal is accountability, and that's easier than ever these days with social media.  Just tell your friends, in a very public forum, what you plan to do and ask them to hold you accountable.
Starting a Self Reliance Challange
Start by getting a group of your friends together, in person or online, and set smart goals together.  Decide how you best connect with your friends and use that forum to hold each other accountable.  You can use Instagram to take pictures of your projects all month long, or facebook to share your accomplishments.
For me, my forum is this blog, and most my friends these days are other bloggers.  A group of my online blogger friends decided to band together and start a month-long self-reliance challenge.  Each week, we'll all be sharing what we've done to become more self-reliant this week.
My goals for this month are:
Create a new herbal medicine for my medicine chest each week
Make a new wild foraged food each week
Get started on the new Botany and Wildcrafting course I'm taking from the Herbal Academy!
Week 1 Update
This week was the week of the Dandelion!  I made three different things with dandelions:
Our dandelion blooms are not up quite yet, since we're so far north, but my daughter and I foraged coltsfoot blossoms for a simple coltsfoot wine.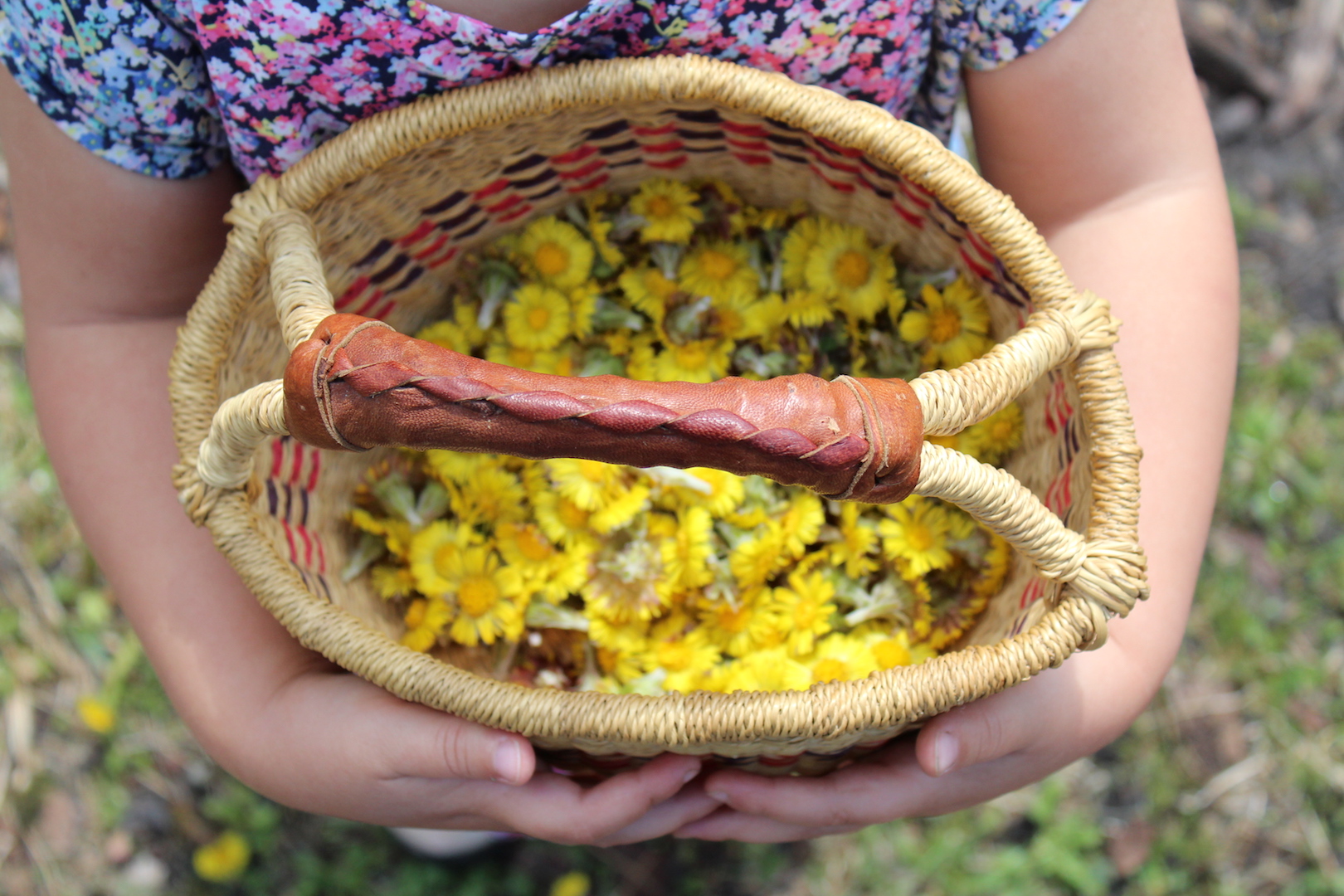 I'll be updating this post as the month goes on with my projects and experiences, so stay tuned.
This month, the other bloggers are going to work on advancing their own skills, and help share that knowledge with you.  Here are a few links to my fellow bloggers, so you can check in on their progress in the challenge:
AnnMarie – 15 Acre Homestead
Nancy – Nancy On The Homefront
Kathi – Oak Hill Homestead
Robin – A Life in the Wild
Candy – Candy's Farm House Pantry
Farmgal – Just Another Day on the Farm
ShawnaLee – Homegrown Self Reliance
Frank – My Green Terra
Maria – Maria Zannini
Lisa Lynn – The Self Sufficient Home Acre
All of us are here to hold each other accountable and help us achieve our own personal goals.
The following two tabs change content below.
I'm an off grid homesteader in rural Vermont and the author of Practical Self Reliance, a blog that helps people find practical ways to become more self reliant.
Latest posts by Ashley Adamant (see all)