Shiitake mushrooms are a great place to start for the beginning mushroom cultivator.  They're easy to identify, and simple to grow.
They also have a relatively high market value, both fresh and dried, which means that they make a good addition to your farmer's market table.
Shiitakes produce best on oak logs, and their name actually means "mushroom of the oak." They can also be grown successfully on sugar maple, hop hornbeam, alder, ash, beech, hickory, poplar and yellow birch.
Our forest soils are too moist and shallow to support oak trees, so we've chosen young sugar maple logs.
If you just want the experience of watching them grow and develop, but you don't have access to a woodlot, try a shiitake mushroom grow log.
For ease of handling, it's best to choose relatively small trees, between 4 and 6 inches in diameter.  If you're woodlot is dense with small trees, thinning it for mushroom cultivation is a good use of the wood.
Cut the logs in to 3 to 4 foot lengths to make them easy to handle and stack.
Supplies Needed
For reference, I would highly recommend Tradd Cotter's book, Organic Mushroom Farming and Mycoremediation.  He covers every technical detail you'd need for growing just about any strain of cultivated mushroom.  The best part is after he gives you all the super detailed science, he goes through it again in layman's language, telling you how to do it all in your backyard with minimal tools and equipment.
Shiitake Mushroom Spawn
Mushroom spawn is some type of substrate that has been colonized by mushroom mycelium.  Generally, shiitake mushroom spawn is purchased as either plug spawn or sawdust spawn.
I'd recommend starting with plug spawn.  It's very easy to work use and requires few special tools.  Plug spawn is small dowels that have been inoculated with shiitake mycelium.
Sawdust spawn is generally cheaper, but it's a bit trickier to work with.  A special inoculation tool is used to pack the sawdust into holes drilled in your mushroom logs.
For plug spawn, use a 5/16-inch drill bit to drill 1 inch deep holes.  A stop collar attached to the drill bit makes drilling the correct depth easy as you work around your logs. (Sawdust spawn uses a 3/8-inch drill bit and holes 1 1/4 inch deep.)
Inoculating Logs with Shiitake Spawn
Holes are drilled at 10-inch intervals down the log, in rows about 2 inches apart.  Stagger the rows using a diamond pattern.  This helps to ensure that the entire log is colonized with mushroom mycelium.
The spawn plugs are then gently tapped into the holes using a rubber mallet or small hammer.
Though it's not strictly required, most growers use a food-safe wax to seal the plugs and help hold in moisture.  Good choices are cheese wax, bees wax or specialty refined mushroom waxes that are sold by mushroom supply companies.
This kit comes with both shiitake mushroom plugs and mushroom wax, as well as daubers to apply the wax and tags to label the logs.  It's a good "all in one" place to start.
Some growers also seal both ends of the log with wax to help seal in moisture.  This practice is a bit controversial, since when you seal the ends it makes it harder for the log to absorb moisture.  If the logs do get too dry, you may not be able to fix it if you've sealed the ends.
Tending Shiitake Mushroom Logs
Once you've inoculated your logs, they need to be kept sheltered from sun and wind which can dry them out.  A low stack in a shaded area that you can reach with a hose is ideal.
In dry areas, water the logs with a sprinkler weekly.  This isn't necessary if you have very regular rains.
Harvesting Shiitake Mushrooms
Shiitake mushroom logs will begin to produce roughly 8 to 16 months after inoculation.  The specifics will depend on your climate.
Each log will produce about a pound of mushrooms per year for up to 8 years.
Once the log is fully colonized with mycelium, you can induce fruiting by soaking the logs in a stock tank or giving them a whack.  Either whack them with a heavy pipe or baseball bat, or pick them up and drop them lengthwise onto their end.
The impact helps to stimulate the mycelium to fruit, and both soaking and impact are traditionally used in Japan.
Once the mushrooms pop, they can be gently broken off by hand.
Mushrooms can be used fresh, or dried in the sun on a screen for 2 days for long-term storage.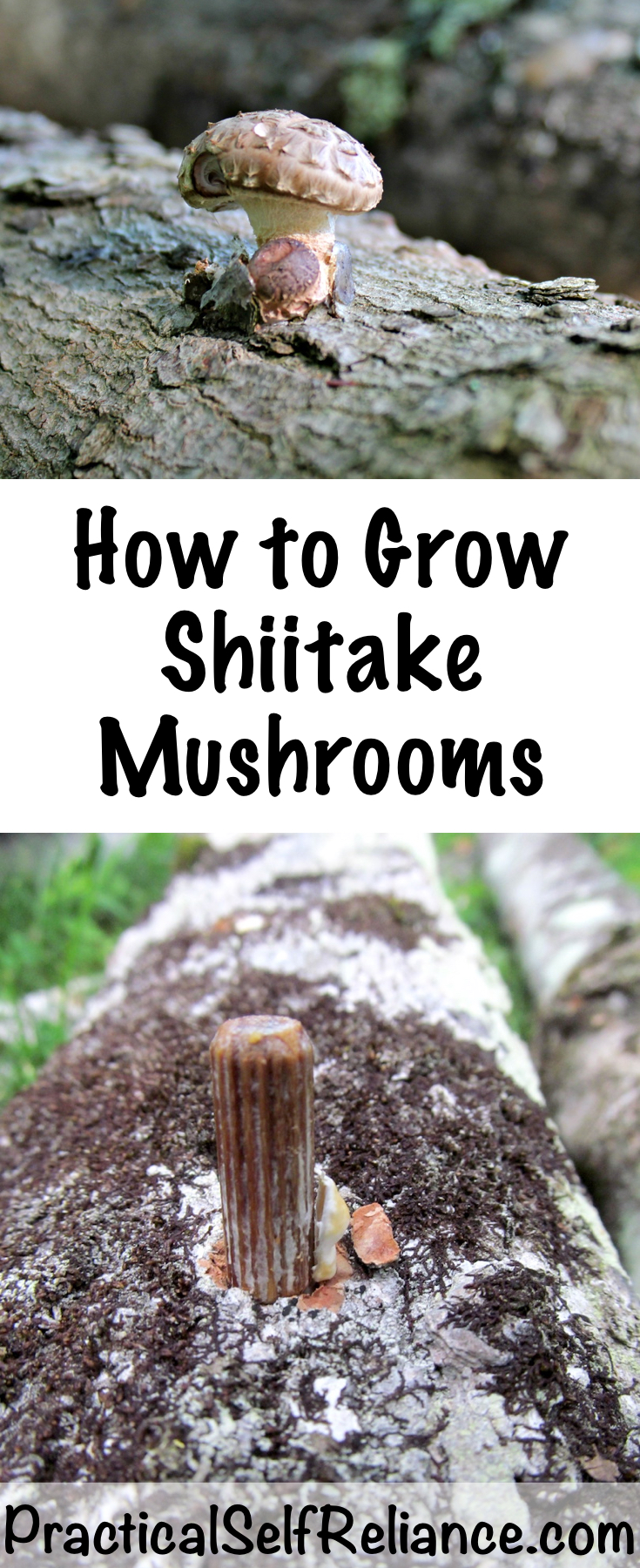 The following two tabs change content below.
I'm an off grid homesteader in rural Vermont and the author of Practical Self Reliance, a blog that helps people find practical ways to become more self reliant.
Latest posts by Ashley Adamant (see all)