In the next few years we plan to add maple syrup to our farm products.  Vermont in particular is well suited to this, boasting the highest per tap syrup yield in the US, an average of roughly 25% higher than other states in New England in 2014.  Vermont produced a gallon of syrup for every 3.24 taps.
The downside to high production, is a lower price.  Vermont taps more than twice as many trees as any other state, but has one of the lowest average per gallon prices (second only to Maine) at roughly $35/gal for bulk wholesale in the past few years.  Retail, however, is much more lucrative.  We've seen local prices consistently in the $50-$60/gal range.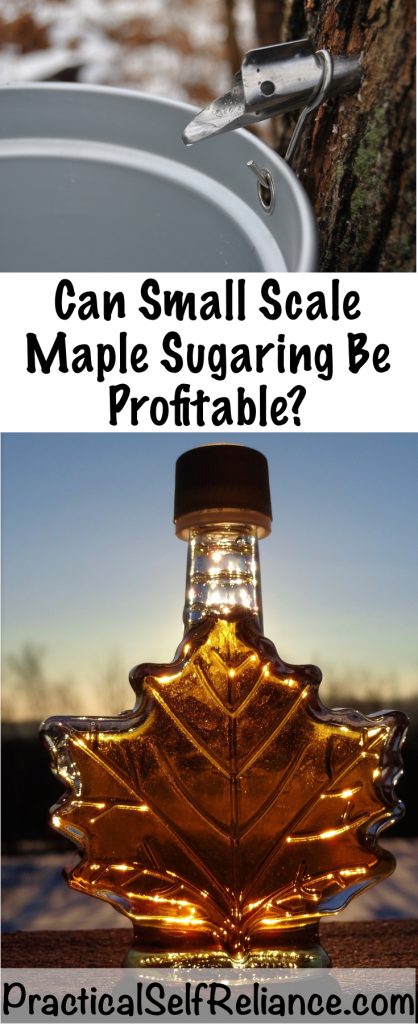 After a sugar bush survey, we estimate that we have roughly 150 mature sugar maples suitable for tapping within a short distance of the proposed sugar shack location.  Based on average Vermont yields, 150 trees tapped should result in gross retail sales of  $2,300-$2,800.
Now comes the fun part: figuring out costs.  Upfront costs include collection equipment, be it buckets and taps or tubing, along with a sugar shack and arch.  These costs could be higher if you decide to go all out and invest in a fancy vacuum pump system or reverse osmosis filtration, but that's hardly necessary at this scale.  Ongoing cost include fuel, labor and bottling.
The cost of a sugar shack can vary widely, but for a 100-150 tap operation our local extension recommends a simple 14×16 building, plus additional wood storage space.  A similarly sized structure built on our land this year cost $2,500 in materials and $1,800 in labor.  We're going to conservatively estimate $5,000 to build the sugar shack.  
The size of arch needed depends on the number of taps and how much time you're willing to devote to boiling each day.  On a good day, each tap produces about a gallon of sap, so assuming we allocate 6 hours a day to boiling, we need an evaporator sized to boil 25 gallons per hour.  That puts us at the largest "hobby" sized boiler of 2'x6′ for roughly $4,500.
Evaporator Size                                              2'x33"            2'x4′                2'x6′
Gallons Per Hour                                               5                   15                     25
Evaporator Cost (Approx.)                        $1,500           $3,800            $4,500
We've decided tubing, plastic taps and plastic bags are not an option for us for a number of reasons.  First, we'd like to limit both our exposure to plastics and the amount of plastics diverted to the waste stream.  Plastic bags need to be replaced every year, and plastic tubing has a 5 year lifespan, whereas stainless steel buckets and taps last indefinitely with proper care.  Tubing, while more convenient, presents a problem in our mixed use sugar bush that is used extensively for forest gardening and recreation, and once set, the tubing stays strung through the woods year round at head height for the duration of its 5 year lifespan.  Stainless steel taps bought in bulk are $1.85 each, or a total of roughly $280 for all 150.  Buckets and lids are considerably more expensive at $23.80 each, or a total of $3,570 for all 150.  All and all taps and buckets total $3,850.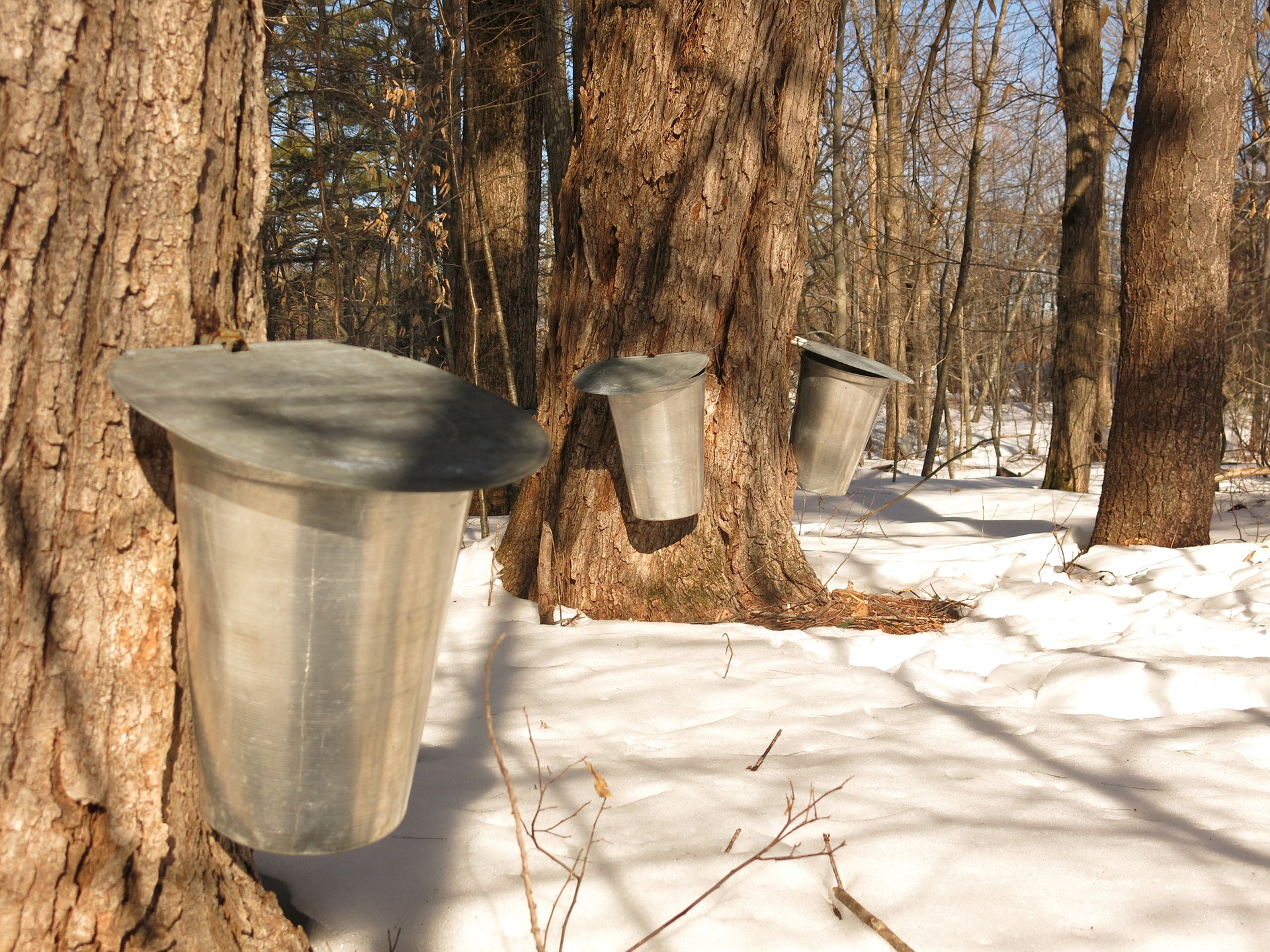 Next comes fuel selection.  Generally wood, even purchased wood is the cheapest fuel option.  This year, however, fuel oil is remarkably cheap due to various international tensions, while dry hardwood prices were averaging an unheard of $300 per cord (normally closer to $200).  It takes 4 gallons of #2 fuel oil to make 1 gallon of sap, which at this years prices would cost $12.  One cord of dry hardwood can make 20-30 gallons of syrup, but 30 gallons assumes high efficiency and very dry wood, so we'll stick with 20 gallons for calculations here.  The cost of a cord of wood divided by 20, so this year 300/20 gives you a cost of $15/gal of syrup.  The blue line below shows the break even point in prices for wood and fuel oil.
In reality, those choosing to operate wood fired boilers are not purchasing the wood.  They're cutting their own, which drastically lowers the cost per cord.  They're also burning wood that cannot be sold commercially because it's not suitable for use in home wood stoves (hemlock, pine, etc).  In preliminary work thinning our sugar bush to allow more light for the maples we cut roughly 10 cords of hemlock and white pine this summer.  This quantity of wood barely even dented our abundant hemlock supply, and much more cutting is required before our sugar bush will be ready for operation.  While we can burn hemlock in an external wood boiler, 10 cords per year is way more than we need.  Thus hemlock is a waste product of our sugar bush maintenance and it only makes sense to put it to good use rather than purchasing fuel oil.
Hemlock and white pine, however, contain fewer BTUs than hardwood.  At 50% boiler efficiency and 20% moisture content in the wood, a cord of hemlock and white pine can produce 18 gallons of syrup starting at 2% sugar content, or 13 gallons starting at 1.5%.  If we pessimistically assume 30% boiler efficiency those numbers change to roughly 11 and 8 gallons.  We'll need somewhere between 2.5 and 6 cords of hemlock and white pine a year to support 150 taps.
Labor to maintain a bucket system and home cut wood is going to add up to a lot of hours in a year.  Wood cutting does take a lot of time, but in opening up pastures, maintaining our woodlot and thinning for permaculture plantings we'd be doing most of the same cutting anyway.  Hemlock is not generally considered sale-able, thus our sugaring operation will be using the waste product of our other endeavors.
The Ohio state extension estimates that a 1000 tap operation requires 120 hours for tapping, gathering and cleanup in a tap and bucket operation.  Our 150 taps will require a lot less labor, but there are definitely efficiencies of scale to be had, so we'll assume 1/4 of the effort of 1000 taps and estimate 30 hours.  On our 25 gallon per hour evaporator, we'll need roughly 80 hours of boil time per season.  In total a rough ballpark of man hours puts us at 100-120 total hours.  
Anyone whose ever spent time in a sugar shack in early spring in Vermont knows that boil time can hardly be considered "work."  This time of year cooking syrup and snowshoeing is the main form of recreation and social engagement available.  There's are very few other farm chores, and honestly little else to do.  While recruiting help for gathering sap buckets is sometimes a problem, there's no shortage of volunteers around boiling time.  Hours of lively conversation, hot cider and tank top weather around the arch-sauna late into the night attract all the neighbors.  Thus in reality, it'd be hard to ascribe more than ~40 hours of the 100-120 to "work".
Since we wont be hiring help, and it's work we'll enjoy in a time of year without much else to do, that makes labor costs very hard to pin down.  At $10/hour we could estimate our work somewhere between 40 hours ($400) or 120 hours ($1200).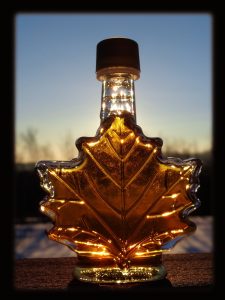 While fancy maple leaf shaped jars are pretty and attract tourists attention, locals mostly buy their syrup in pint or quart mason jars.  Both sizes are currently selling for roughly $1 each.  Our packaging costs would be roughly $250-300 annually.
Upfront Investment                                    Annual Costs                                        Gross Proceeds
Sugar Shack:         $5,000                             Labor:           $400-$1,200                               $2,300 – $2,800
Arch:                       $4,500                             Packaging:    $250-$300
Buckets & Taps:   $3,800                             Total:             $650-$1500
Total:                  $13,300
The results?  Taking gross proceeds and deducting annual costs, our initial investment will be paid back in 7-13 years.  We expect to be able to productively use this sugar bush and equipment for 30+ years, and ideally transition it to our children.All and all, does sugaring on this scale make sense as a financial venture with a profit motive?  Not really.  We're talking small numbers here.  Net profits of $1,000-$2,000 per year don't exactly pay the mortgage.  However, there are many advantages to taking up sugaring and investing in the equipment.
1. It's a hobby that keeps you in shape and provides for recreation in a time of year that's otherwise bleak.
2. Though the net proceeds are low, it does pay for itself, which is something that can be said of few hobbies.
3. In the end, you have maple syrup and you've saved yourself the cost of a few months gym membership.
4. It allows for productive use of one of our waste products, excess hemlock and white pine.
Sugaring in Vermont is recreation, pure and simple.  Pouring your own syrup over your pancakes year round just reminds you of how much fun you had boiling sap in the early spring with your friends, and selling sap just helps pay for that pleasure.  Making our own syrup is aligned with our value set, and fits in well with how we'd like to spend our time on this earth.  As they say, if you love your work, you'll never "work" a day in your life.
Sources: 
(Visited 938 times, 7 visits today)
The following two tabs change content below.
I'm an off grid homesteader in rural Vermont and the author of Practical Self Reliance, a blog that helps people find practical ways to become more self reliant.
Latest posts by Ashley Adamant (see all)