Thinking about adding geese to your homestead?
Geese are remarkably easy to tend, and in many ways they're easier than chickens.  They're self sufficient, and generally excellent mothers.
While they can be easier than chickens, they're also quite different than chickens.  I'd recommend getting a good book on goose husbandry to fully understand their requirements before jumping in.
The Modern Homesteader's Guide to Keeping Geese is a great comprehensive beginners guide.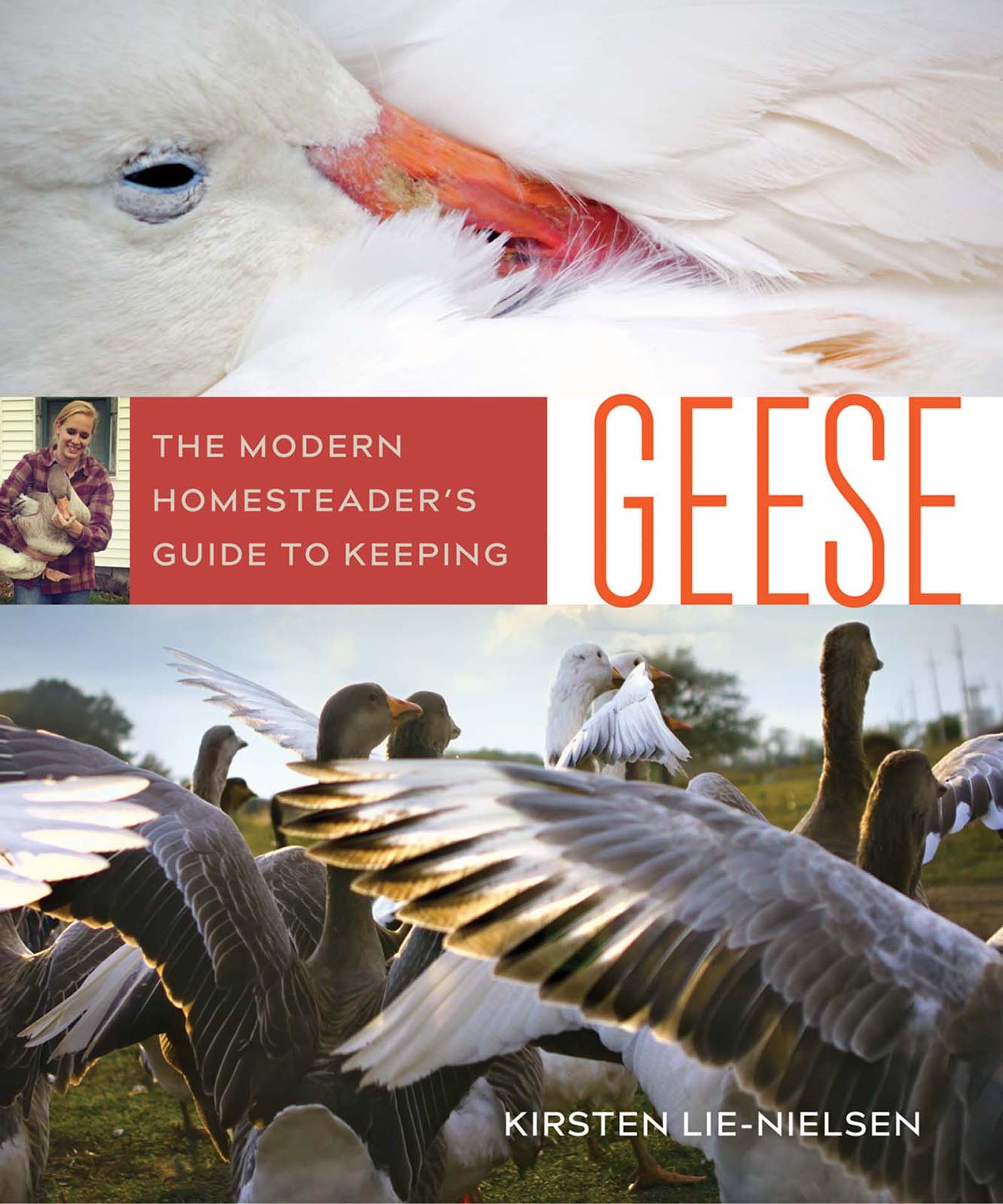 Here's just a few ways geese differ from chickens.
Geese Don't Roost
They're ground based birds, and they need able clean floor space in their coop as well as large nesting boxes on the floor.  They wont be able to access raised chicken nesting boxes.
Geese are Very Hardy
Even in very cold climates, they prefer to stay outside during daylight hours.  Ours would lay out on the snow contentedly grooming themselves even in the harshest blizzard.  With that in mind, they only need the most rudimentary housing, just enough to keep predators from getting to them.
Geese Can Defend Themselves Better than Chickens While Free Ranging
Geese make excellent free range birds because they're excellent at defending themselves against predators.  Some mixed flock poultry keepers add them to a flock to help keep chickens safe while free ranging.
While geese are great at fending off intruders during the day hours, they have very poor night vision.  They cant fight off what they cant see, so be sure they're locked up safe in the evening.
Geese are Grazers
Unlike ducks and chickens, which prefer bugs and high protein food, geese are grazers.  They have a digestive system that's much like a horse, and they're made for quickly converting grass into meat and eggs.  Be sure they have access to greens, as well as standard un-medicated poultry food.  Medicated poultry food is dosed for chickens, and can be toxic to other breeds.
Geese are Water Birds
Geese are water birds, and they're happiest when they have water to bathe, but you'd don't need a full pond.  They're happy with a small kiddy pool to splash in during the warm months.  In the cold months, we'd bring them warm water daily and they'd rely on eating snow for much of their liquid.
Be careful that their winter water source is small and not easily spilled.  They'll try to climb in to bathe, and then afterwards they'll freeze their breasts and feet to snow and ice.  It's best to keep them dry as possible in the winter months if you're in a cold climate.  Though eating snow may seem harsh, it's much nicer than trying to chip a panicked goose out of ice.
Goose Eggs Need Moisture to Hatch
While chickens are land birds with very dry nests, goose mothers actually have to bathe to wet their feathers to keep their eggs moist during incubation.  To hatch goose eggs in an incubator, you'll need to follow specific protocols.  See The Modern Homesteaders Guide to Keeping Geese for details.
Goose Meat is More Like Beef than Chicken
If you intend to raise geese for meat, you'll be pleasantly surprised that goose meat tastes more like beef than poultry.  For small scale homesteaders, goose meat is a great way to get some variety into their harvests without actually taking on the responsibility or expense of raising a cow.
Even if you're not intending to harvest geese for meat, there's always the occasional gander that just cant be tamed.  It's nice to know that if you do need to harvest to curb attacking behavior that you're in for a rare treat.
But Arn't Geese Aggressive?
Geese have a bad reputation for aggression, but more often than not that has to do with handling more than anything else.  Hand raised geese are devoted to their owners, and welcome them in as part of the flock.  Geese hand raised on our homestead are more lap animals than farm animals.
Our geese would welcome us when we came home, come when called and circle circle our ankles nuzzling just like house cats.
While they accept you as part of the flock, visitors might be a different story.  Our family of friendly geese needed to be locked in when friends visited, and we had to work out a fencing compromise with the UPS guy.  Anyone outside of their known flock was liable to attack.
This "guard dog" behavior makes them great additions to the homestead in very rural areas where you don't see a lot of visitors.  Geese are still used to this day as "guard dogs" in prisons because they can't be bribed like real dogs, and they're fierce at defending their territory against intruders.
The same is true of your homestead.  I'd pit my geese against a burglar any day.
Getting Started with Geese Giveaway!
Keeping Geese Prize Package Valued at Over $200!!
One (1) copy of The Modern Homesteader's Guide to Keeping Geese by Kirsten Lie-Nielsen
Just released by New Society Publishers!
Retail value $19.99 – This 144 page book covers everything you need to know to raise geese.
Eight (8) White Chinese Geese from Hoover's Hatchery*
Retail value $91.20 – Chinese geese are a classic, smaller breed known for their excellent forager and alert behavior.
One (1) Cozy Coop Heating Tile from Cozy Coop Products
Retail value $69.99 – Flat-panel poultry coop heater keeps birds warm and prevents frostbite during cold months using both radiant & convection heat.
One $20 Gift Card to Tractor Supply or Atwoods for Starter Feed – Winner's Choice.
The giveaway is scheduled to run November 25, 2017 starting at midnight, to December 9, 2017 ending at 11:59pm. (Pacific Time) 
* Hoover's Hatchery will work directly with the winner to coordinate a ship date of goslings (baby geese) best for your regional area and climate. As with all live animal shipments, some losses may occur. Homestead Bloggers Network is not responsible for any delays in shipping due to weather or unforeseen incidents. If the selected winner is not able to safely house 8 geese a new, secondary winner may be selected for the live animal portion of the giveaway only – solely at the winner's discretion and preference.
This post is sponsored by New Society Publishers and The Homestead Bloggers Network.  The experiences shared in this post are my own, and I would never recommend a product I didn't love.
The following two tabs change content below.
I'm an off grid homesteader in rural Vermont and the author of Practical Self Reliance, a blog that helps people find practical ways to become more self reliant.
Latest posts by Ashley Adamant (see all)