When the peaches come in, our preservation kitchen goes into overdrive. Peaches are high sugar and high acid, which makes them perfect for canning, but that also makes them ideal for homemade peach wine. Once the canned peaches are put up, it's time to break out the fermenter.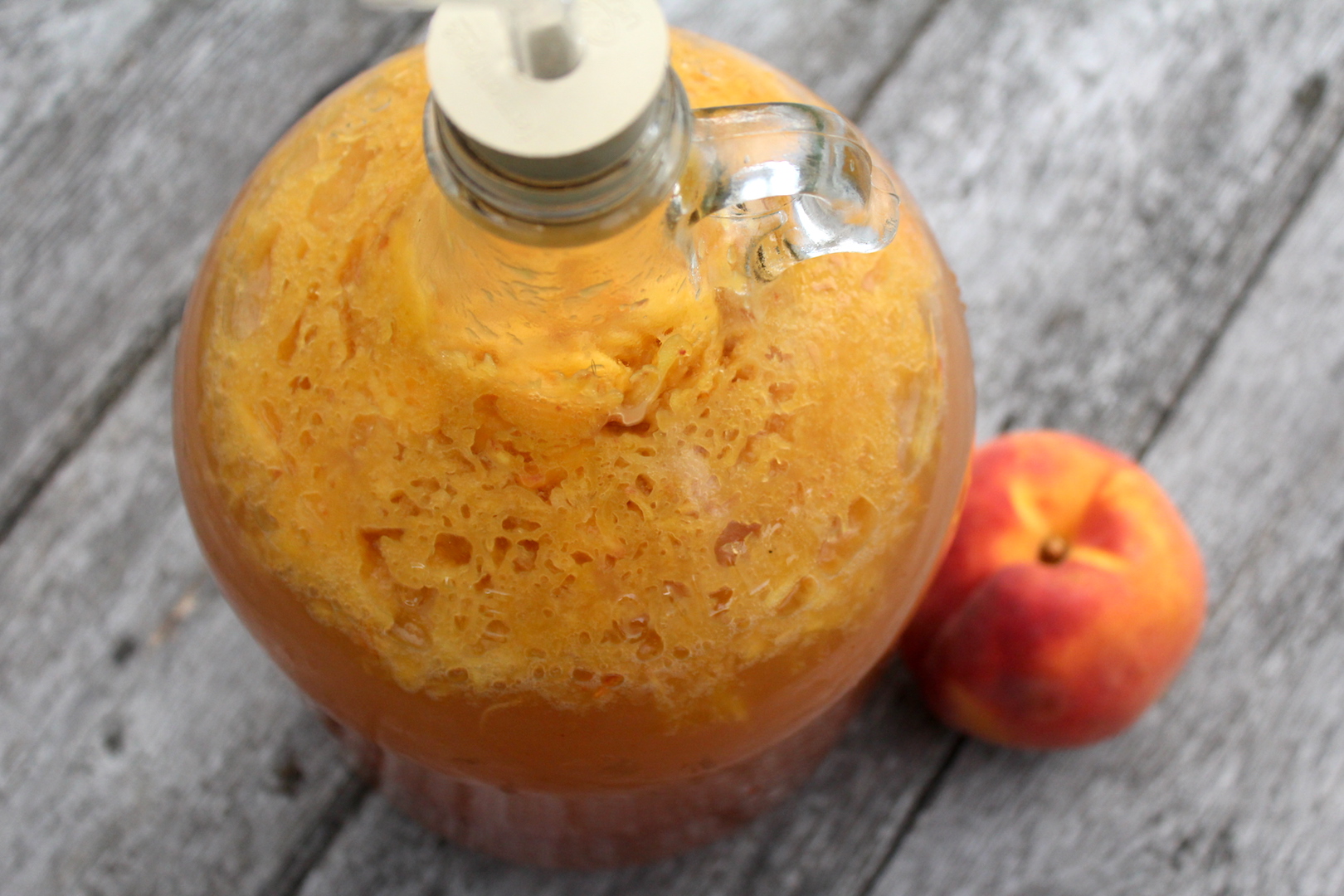 In the past, I've tried to use a small home juicer to extract peach juice for wine, but since peaches are so soft it just results in a peach puree. This year I'm using a sugar juicing technique that I learned making rhubarb wine. Start by chopping the peaches and then pack them in sugar. The sugar will pull out the juice and break down the peach cells, making the juice more digestible for wine yeast.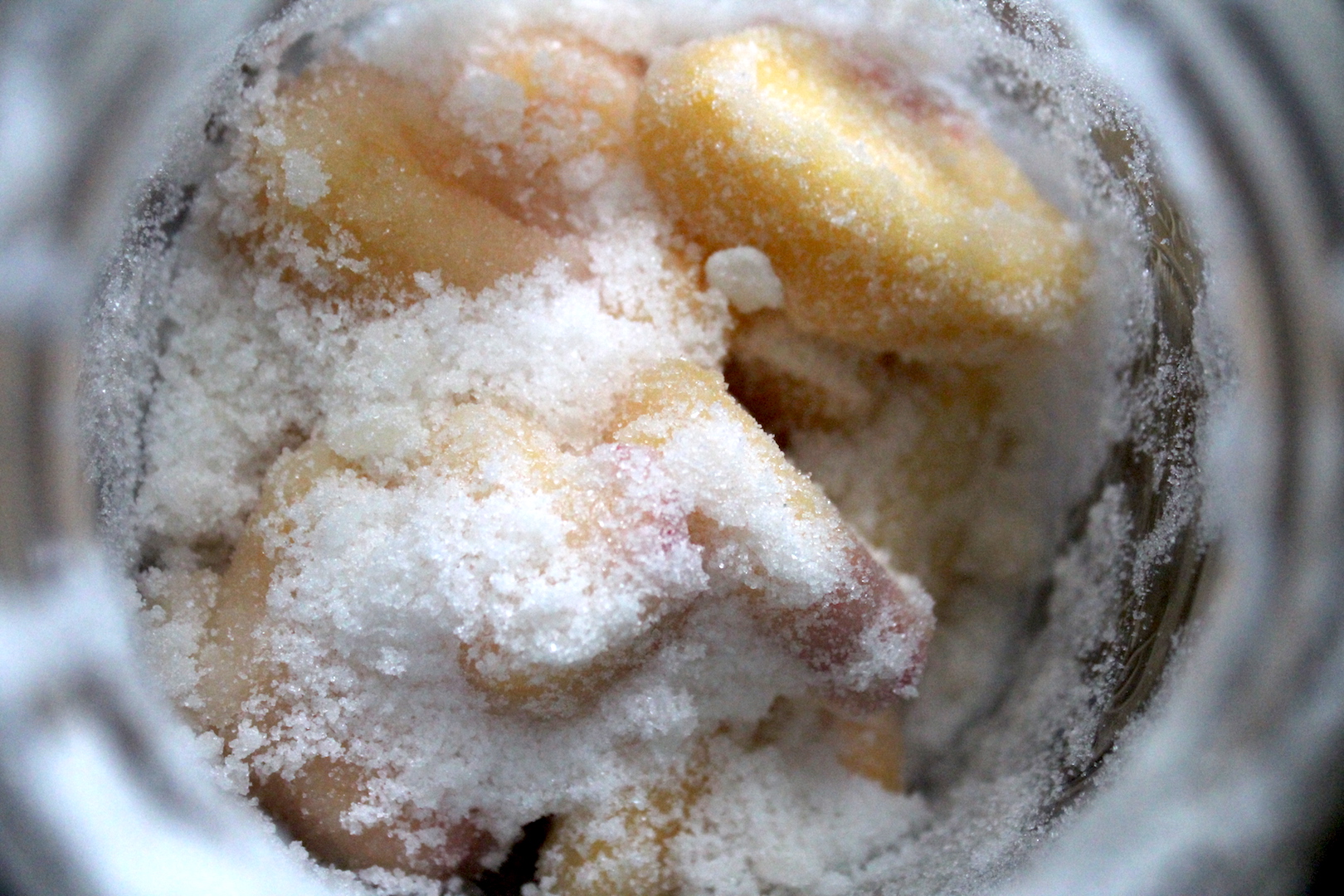 When you first add the sugar to the peaches it'll look a bit absurd. The peaches are more or less lost in the sugar, and it's hard to imagine how this will turn into a juice.
Within a few minutes the peaches are already releasing their juice, and after about an hour a jar of sugared peaches has been transformed into a jar of sugar-sweetened juice perfect for peach wine.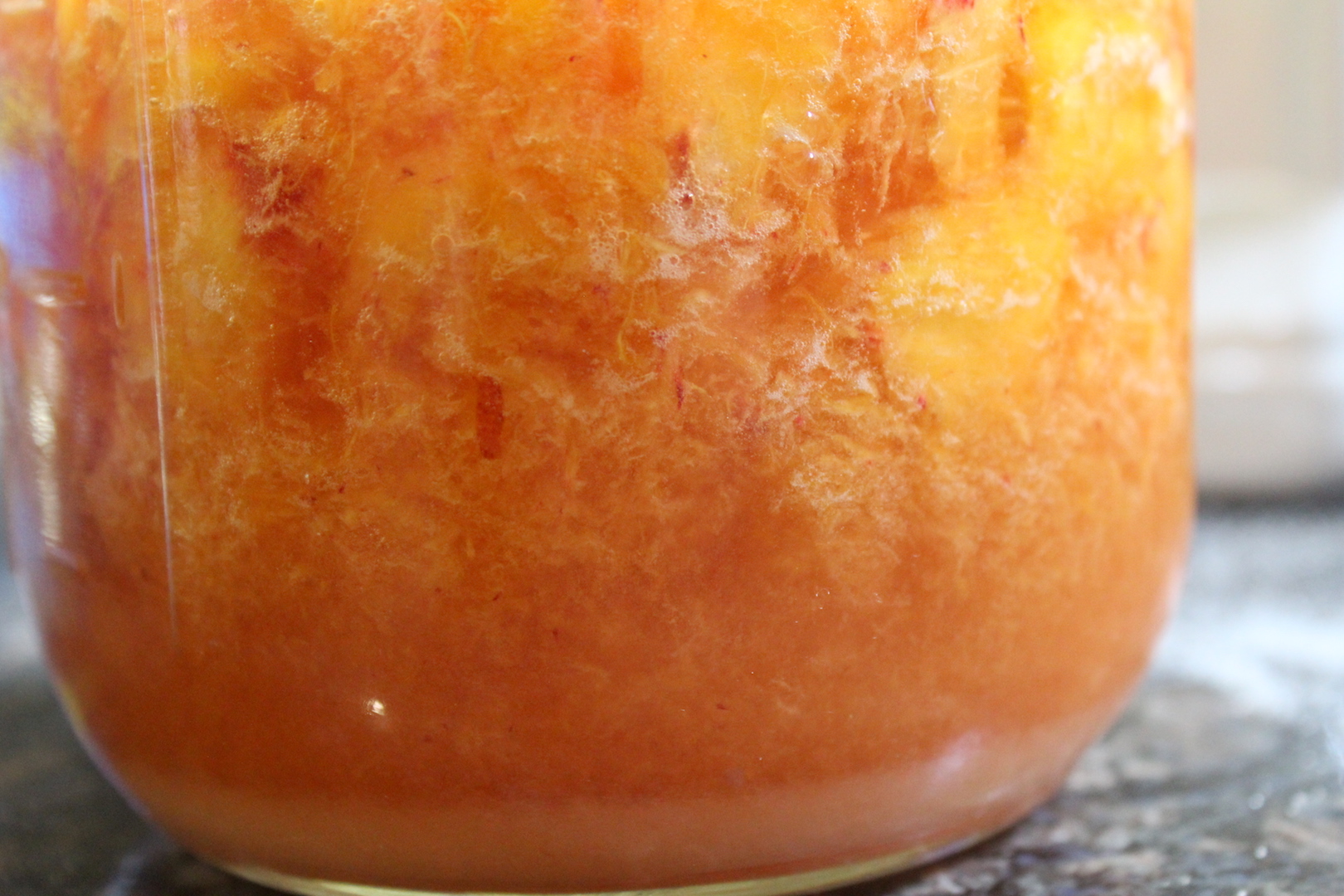 I was a bit hesitant to add too much sugar because I didn't want to overwhelm the peach flavor. When I make my homemade peach jam, I use very little sugar to avoid overwhelming the peach flavor. My husband disagreed, and though he usually prefers dry wines, he thought a dry peach wine would be pretty unappealing. There has to be enough sugar in the fermenter to both create alcohol and leave a good bit of residual sweetness in the peach wine.
After I juiced the peaches with sugar, the remaining pulp was so pulverized that I just tossed it into the fermenter. I didn't want to waste that peach flavor, but that was a mistake. Once the peach wine began fermenting, the pulp all floated to the top. While it looked pretty pulverized when I poured it in, it quickly formed a dense mat at the top of the fermenter. Next time, I won't add in the peach pulp, just the sugar extracted juice.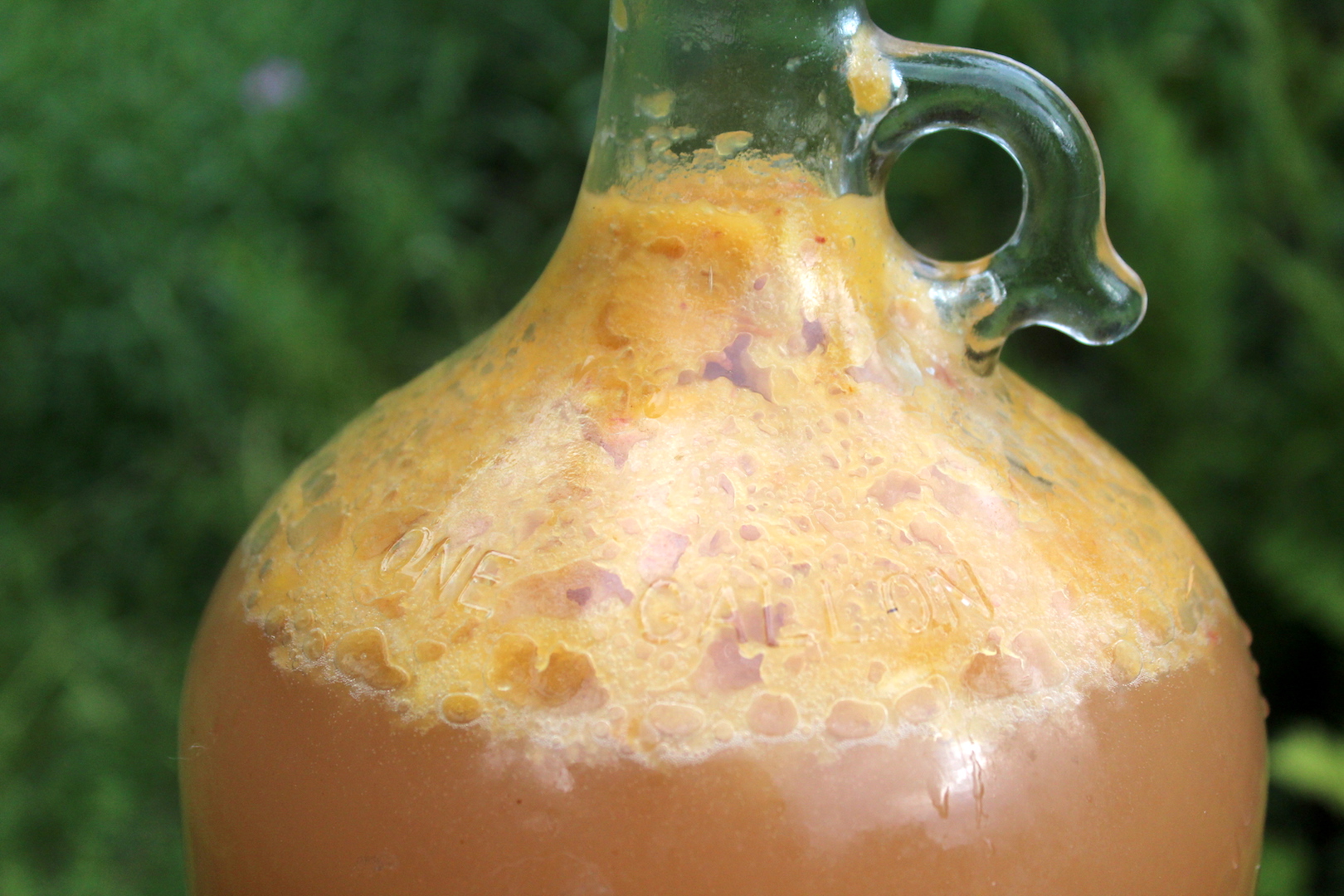 In this peach wine recipe, I'm using the same yeast that I generally use for my small batch meads. It's Premier Blanc wine yeast which used to be called champagne yeast. It has a high alcohol tolerance and produces tiny bubbles in the finished wine like a champagne. Since this type of yeast is often used to restart sluggish fermentation, it's also a great choice if you want to make sure a homemade wine gets started right the first time.
Feel free to choose a different wine yeast, but be sure to dissolve the yeast in water and allow it to bloom for 5-10 minutes before adding it into the peach wine base. The yeast granules are hibernating and throwing them right into a sugary solution before allowing them to rehydrate can shock the yeast.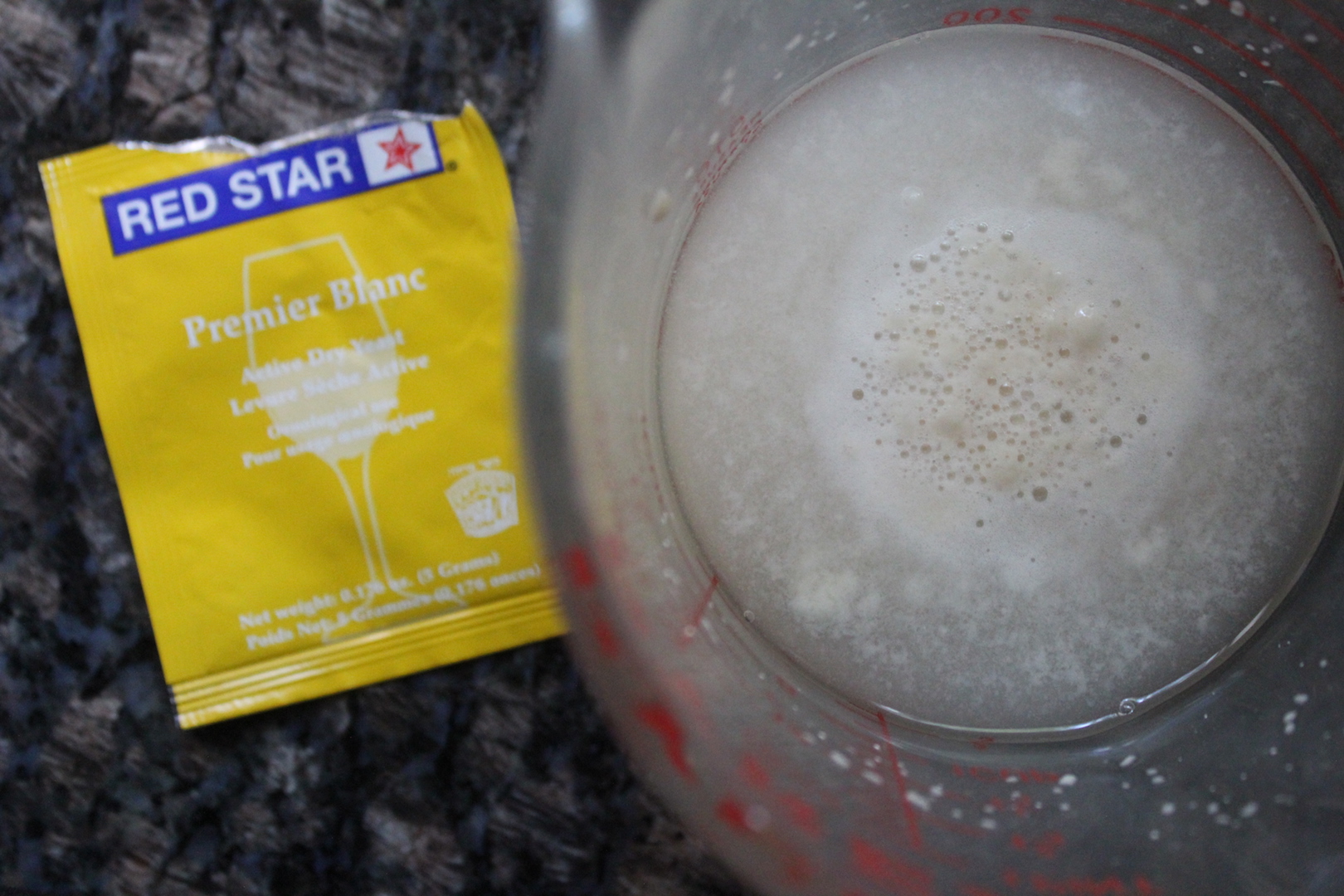 Other than wine yeast purchased specifically for home brewing, I generally like to make wine with what I have in my kitchen. I avoid yeast energizers, acid blends, tannin powders and the like. For acid, I add in a bit of lemon juice. For tannin, I'll add in a few currant leaves or grape leaves, or a black tea bag. I like to let my wines ferment completely and then carbonate slightly in the bottle, rather than ending the fermentation with Camden tablets.
That said, winemaking additives do have their place and they make a far more reliable brew than kitchen pantry alternatives. If you do want to use winemaking additives instead, here's where to find them:
To get started brewing, the only specialized equipment and ingredients you need is the wine yeast, a carboy, rubber stopper and an airlock. This kit has everything you need except the yeast for about $10. Beyond that, an auto siphon is wicked helpful for bottling and worth the investment if you plan on making more than one batch of homebrew in your lifetime.
Once the sugar juiced peaches, lemon juice, tannin source and water are in the fermenter, allow it to bubble away for about 6 weeks until fermentation slows or stops. If you left the peach pulp in the fermenter, it'll be helpful to rack the wine over into a clean fermentation vessel after about 2-3 weeks to allow the wine to clarify.
After about 6 weeks, us a siphon to bottle the wine, leaving the yeast sediment behind. Allow the wine to bottle age for at least a month, but preferably a year or more for best flavor.
Peach Wine
This peach wine recipe makes one gallon of sweet peach wine.
Ingredients
2-3

lbs

peaches

chopped

2-3

lbs

sugar

1/2

cup

prepared black tea

strongly brewed

2

Tbsp

lemon juice
Instructions
Chop the peaches into a large bowl or half gallon mason jar. Cover the peach slices with sugar, and stir every few minutes. The sugar will extract the peach juice.

Drain the peach juice into a fermentation vessle, and then use water to wash the peach pulp to remove the last bits of sugar and peach juice. Pour the water through a fine mesh strainer and fill the fermenter to about 3/4 full, leaving space for the remaining ingredients.

Brew a cup of strong black tea, remove the tea bag and add about 1/2 cup of the strongly brewed black tea into the fermenter.

Add 2 tbsp of lemon juice into the fermenter.

Open the yeast packet and allow it to bloom in about 1/4 cup of luke-warm water for 5 to 10 minutes. Add the yeast into the fermenter.

Add water to fill the fermenter to within a few inches of the top. Cap with a rubber stopper and give the whole thing a shake, careful not to drop it. Or, for the more conservative, use the handle of a long kitchen spoon to stir it up.

Cap with an airlock and allow the mixture to ferment for about 6 weeks. It may finish and clarify sooner, depending on your local temperature. If the airlock clogs with peach pulp, pull it off and clean it out before re-attaching it. This shouldn't be an issue if you've filtered the pulp through a fine mesh strainer.

(optional) Rack the wine into a clean fermenter after 3 weeks, leaving behind any pulp or yeast sediment.

After 6 weeks, bottle the wine in wine bottles with corks. Allow the peach wine to bottle age for at least 1 month, but preferably up to a year before drinking.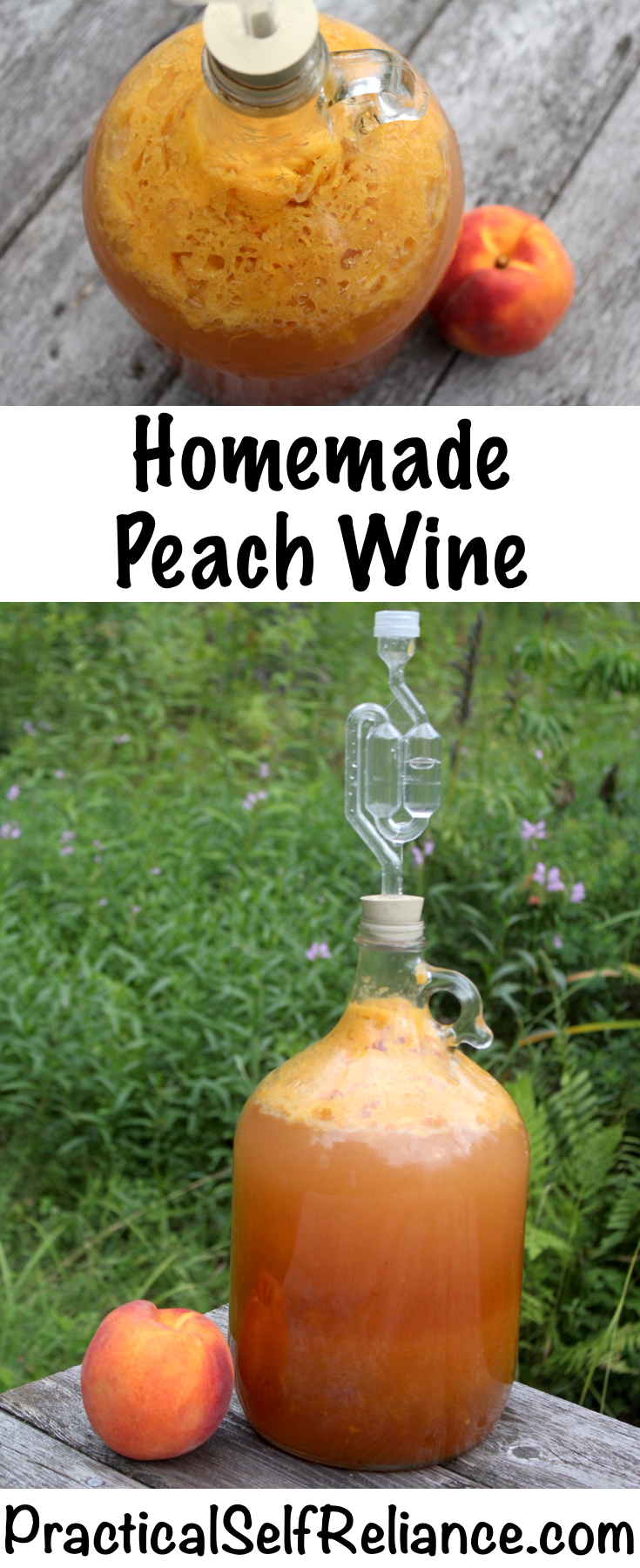 The following two tabs change content below.
I'm an off grid homesteader in rural Vermont and the author of Practical Self Reliance, a blog that helps people find practical ways to become more self reliant.
Latest posts by Ashley Adamant (see all)