Pomme grise is one of my favorite eating apples, but it's so hard to find.  A tiny grey russeted apple is the last one you'll find in a grocery store.  Like many of the best heirloom apples, it has a small devoted following, but most the world will never know it exists.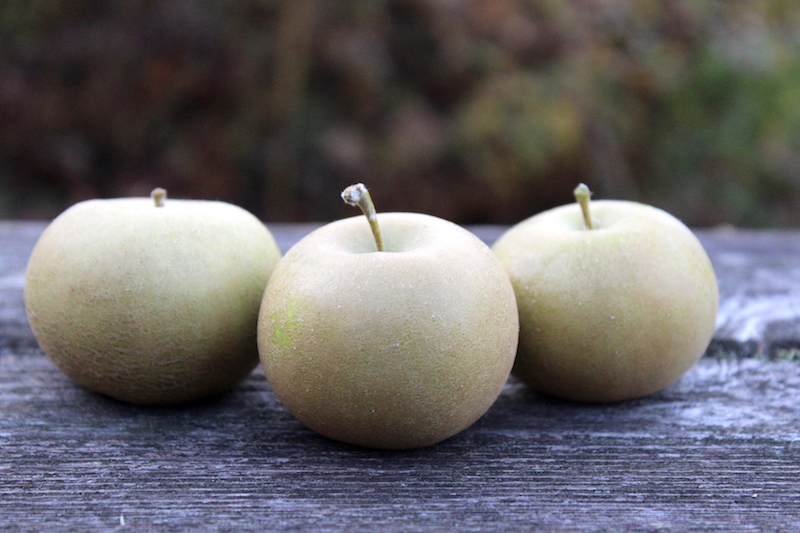 Pomme Grise is an old Canadian apple found in the St. Lawrence River Valley in the 1800's.  It's surprisingly similar to an old French apple known as Reinette Grise, but it's unlikely that it's the same apple.  Pomme grise thrives on icy cold winters and doesn't do well in more moderate climates.
Apples of Uncommon Character notes that Pomme Grise never develops much flavor south of the US side of the St. Lawrence River.  Here in Central Vermont, our climate is much like Quebec and just about perfect for growing flavorful Pomme Grise apples.  Since it requires a cold climate to produce quality apples, pomme grise is rarely found outside of northern New England and Canada.
Rowan Jacobson describes the flavor as "A classic russet, tart and grassy when young, maturing to a wonderfully deep, nutty, marzipan richness…" with a dense and crunchy texture that's not overly juicy.
I'd describe it as a full flavored apple, with a well-balanced acidity and dense flesh.  Its aromatics are hard to pin down, but just one bite and you'll know you've found something extraordinary.  It's not particularly juicy, with a texture that's a bit like a dry Asian pear.  I know, I'm not selling it like a fancy food writer, but this apple doesn't need dribbling juice to win hearts.
An old horticultural text from the 1800's, The Fruits and Trees of America calls it "undoubtedly one of the finest dessert apples for the northern climate."  It's sad that we judge apples by their cover, and a tiny gray apple will never find a market among grocery store shoppers.
I personally think it would make an extraordinary pie apple, but the fruits are so small that I don't have the patience to peel enough to try.  I have baked them into slow roasted baby apples, and they're an exceptional baked apple.  The skin holds together wonderfully, and they retain a full-bodied texture even after an hour in the oven.  The natural acidity balances well against a coating of sugar as well.
Next up, I'm going to try canning some whole in syrup for a winter dessert treat.  They're noted to be a fine keeping apple, which is impressive for such a small-fruited variety.  The fruits ripen in late September to early October, and the trees are annual bearers of prolific crops.
I've seen several places that note that Thomas Jefferson grew Pomme Grise at Monticello as a dessert apple, but it's hard to imagine given the climate in Virginia.  Someday perhaps I'll get to visit and find out for myself.
Like many old-time apples, pomme grise goes by a number of other names including pomme gris, pomme Canada and gray apple.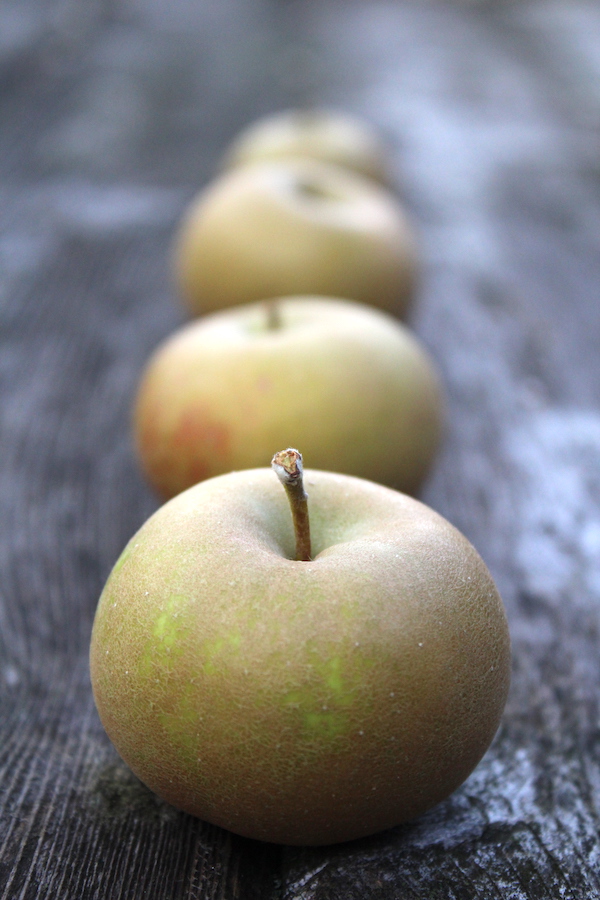 The following two tabs change content below.
I'm an off grid homesteader in rural Vermont and the author of Practical Self Reliance, a blog that helps people find practical ways to become more self reliant.
Latest posts by Ashley Adamant (see all)