Pickled peppers are a great way to add spice and variety to winter meals without adding food miles to your plate.  We toss them into chili, use them to top tacos & make a truly amazing Cilantro Salsa or Chimichurri in no time flat.  Once you've mastered summertime dill pickles, try your hand at pickling hot peppers at home to preserve the heat of summer the whole year round.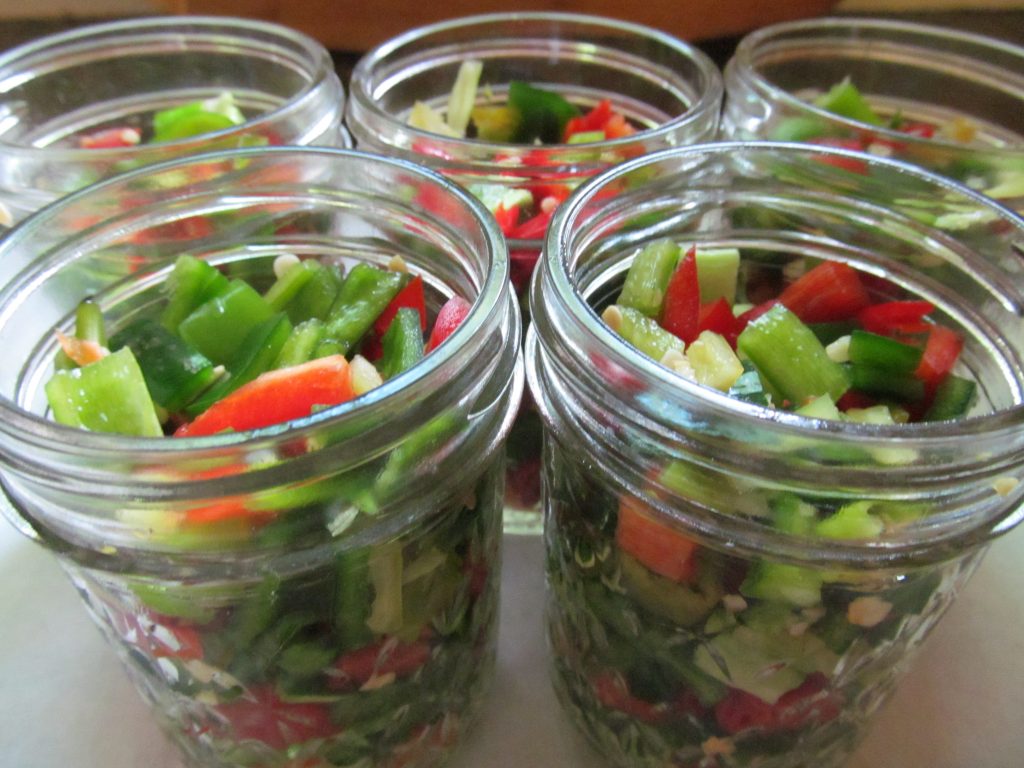 Canned Pickled Peppers Recipe
Yield: 5 half pints

5 C Diced Peppers (Mix of Hot and Sweet)
5 Garlic Cloves
2 C Cider Vinegar
1 C Water
2 tsp Canning Salt
1 tsp Sugar
Being preheating your water bath canner.  Divide chopped peppers between 5 half pint jars and top each jar with a garlic clove.  Bring Vinegar, Water, Salt and Sugar to a boil in a saucepan.  Pour the brine over the peppers in each jar, leaving 1/2 inch headspace.  Process in a water bath canner for 10 minutes. (15 minutes for 1000-6000 ft elevation.)
*Cook's Note: You can adjust the heat of this pickled hot pepper mix by adding more sweet peppers to the mix.  Keep in mind, that even the heat from a single hot pepper will infuse through the entire batch and add spice to every bite.  Unless you really like to feel the burn, use hot peppers sparingly.  If by chance you over do it, use them in small amounts adding a finely minced pepper to two to a soup or salsa to add just a small amount of heat.  The pickling juice will also pick up the flavors, and a dash of it is a great way to add salt, heat and flavor to dishes as well.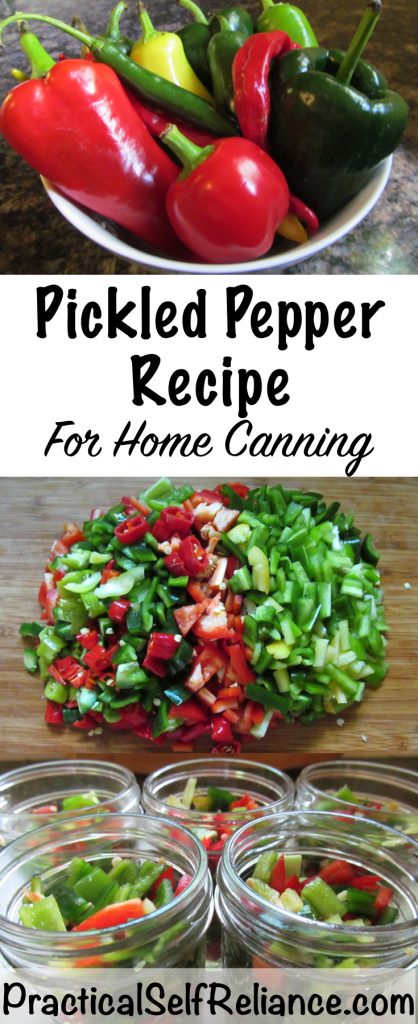 Source for Processing Times:
National Center for Home Food Preservation: Pickled Peppers
Looking for other options?  
Try these great pickled pepper recipes:
State Extension Recipes
Making Pickled Peppers at Home
Clemson University Pickled Peppers Recipe
Oregon State Guide To Pickled Vegetables
Ball Fresh Preserving Recipes
Pickled Hot Pepper Recipe
Pickled Mixed Peppers Recipe
Fancy Food Magazine Recipes
Bon Appetit Pickled Peppers
Food Network Pickled Jalapeno Peppers
Saveur Mexico Pickled Peppers
(Visited 865 times, 3 visits today)
The following two tabs change content below.
I'm an off grid homesteader in rural Vermont and the author of Practical Self Reliance, a blog that helps people find practical ways to become more self reliant.
Latest posts by Ashley Adamant (see all)