The Linden tree (Tilia sp.) , also known as Basswood, Honey-Tree, Bee Tree or Lime Tree, is a common deciduous tree found throughout the northern hemisphere.  It's easily identified by it's utterly gigantic heart shaped leaves (6-8 inches across) and intensely fragrant flowers. Adult trees have fissured bark, and can reach 6 feet in diameter.  All parts of the plant are edible including the leaves, flowers, seeds, sap and bark.

Range and Habitat 
Tilia americana is found throughout the Northeastern and North Central United States from Minnesota to Missouri in the West to Maine and Virginia in the East.
While it can be found as a young tree on roadsides, sand dunes and dry exposed ridges,  it tree seems to thrive on north and east facing slopes with moist soils.  It's preferred soil type is "mesic" meaning it maintains an abundant supply of moisture year round without being swampy.
It's not a dominant tree, and generally shares the forest with Sugar Maple, Ironwood, White Ash, Red Maple and Elm.

Linden Flowers
Linden Trees flower for two weeks sometime between May and July depending on location and year to year weather conditions.  At any given point during the two week flowering period, a single tree will posses flowers at all stages of development hanging downward from leaf stalks.  Groupings range from 4 to 40 flowers in an inflorescence.  Linden is sometimes called the "Honey-Tree" because it's great for pollinators.  Over 60 species of insects are known to routinely visit its flowers.
Trees begin flowering at about 15 years of age and continue throughout the life of the tree, but flowers are difficult to forage from adult specimens that have reached the canopy.  Look for a tree that is at least 2 inches in diameter and watch carefully during flowering season for bud formation.
The flowers have a strong sweet smell, along the lines of honeysuckle or jasmine.  They taste as floral as they smell, with the added flavor of a little sweet green asparagus.  They can be eaten fresh or made into teas, tinctures or floral waters.
Medicinally, they're most commonly used as a sedative and in the treatment of anxiety, similar to how chamomile is used today.  They're also used in the treatment of colds and flus, as well as respiratory issues.  The flowers are sedative, expectorant, diuretic and antiseptic.

Linden Leaves
Linden leaves are always edible, but are best when picked young and before they have grown to full size.  No bigger than 2 inches harvested in the early spring is ideal.  As they get older the texture changes and they get tough, but are still quite tasty.  Eat them fresh right off the tree, or use as a base for a salad.  They taste green and slightly sweet.
When the tree is young, it's easily confused for a bush or shrub because it tends to grow in a bushy habit early on if it's not competing for sunlight, and young basswood "bushes" are common along roadsides and are an excellent source of fresh greens.  Mature adult trees reach high into the canopy, but leaves are often accessible due to suckering at the base.

Linden Seeds
The seeds, which develop a few weeks after flowering, can be make into a convincing chocolate substitute.  The seeds husks can be easily cracked between your teeth, and the seeds themselves are then ground into a chocolate like substance.  The ground paste, however, does not keep very long, making linden chocolate not viable on any large scale.
Only the immature seeds, when mixed with the sweet scented dried flowers, produce a chocolate substitute.  When the seeds mature they lose some of their chocolate flavor, and gain a more coffee like taste.
Use this recipe for Linden Chocolate: Mix 10-12 parts immature seed to 1 part dried flowers and process in a food processor or mortar and pistil.  Add a little neutral oil (grape seed, etc) to help you make it into a manageable paste.  Eat immediately, as it loses its flavor within a day or two.
Use this recipe for Linden Coffee: Roast mature seeds at 300 degrees F for 20 minutes until dry and browned.  Grind when cool and make as you would coffee.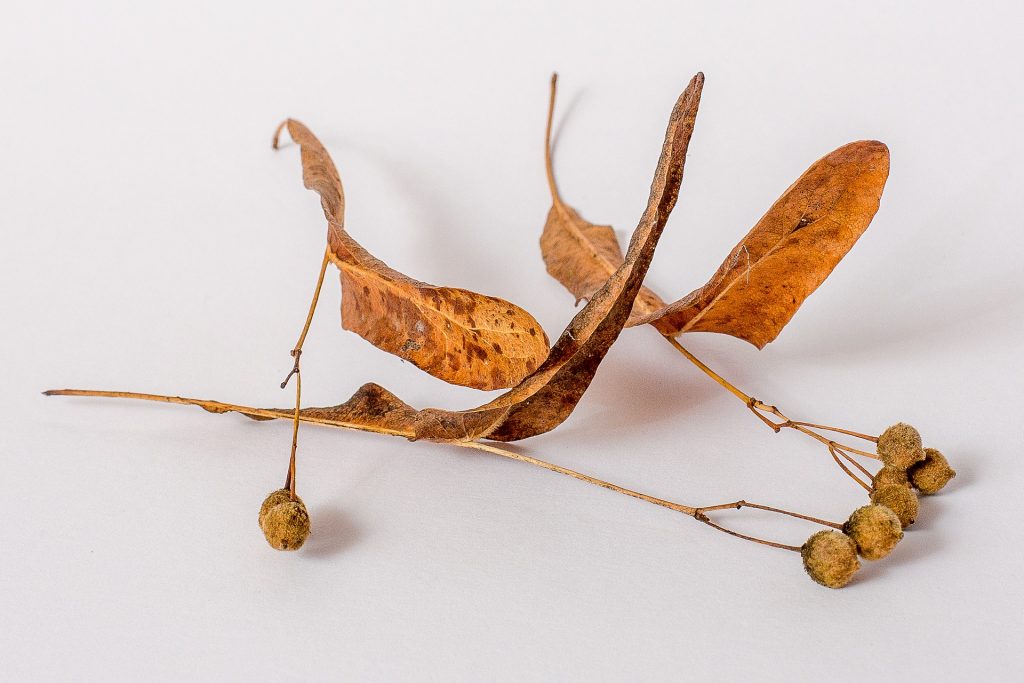 Linden Sap
Linden is part of a large group of tap-able hardwood trees whose sap runs for a brief period in the early spring.  While maple sap is roughly 3-5% sugar, linden sap is only roughly 1% and will take a lot more sap to make a gallon of syrup (~120 gallons instead of ~40 for maple).
Trees are tapped in the same way as maple trees, though slightly later in the season.  Basswood saplings were also traditionally used to make taps, as they can be easily hollowed out of pith to make a durable wooden tube to funnel the sap from the tree.

Linden Bark
The bark, or more specifically, inner cambium can be removed and eaten.  It tastes slightly sweet and green like a cucumber.  It can be eaten fresh as a vegetable, or dried and ground into powder for baking (mixed with flour).  It is best taken in the early spring when its sugar content is the greatest.  Harvesting from the trunk can hurt the tree.  It's best to find a limb or sucker and cut it off completely, then peel back the outer bark to reach the sweet cambium.
Other Uses For Linden
While the wood has a low BTU rating and makes poor firewood, it is prized for carving because it is very light and has little discernible grain.  Charcoal made from the wood is said to be more absorbent of impurities than that of other woods, and it is used as a filter and in medicine for digestive complaints.
The cambium (inner bark) is used as cordage, and was processed into clothing like linen by Native Americans.  It is not quite as strong or durable as linen, but the tree produces vast quantities and the strands are very long, making it useful in quantity if not quality.
Sources:
US Forest Service: Tilia americana
Herbal Safety: Linden Tree
Google Books: Northeast Foraging
Foragers harvest: Basswood, The Ultimate Salad Plant
You Grow Girl: Foraging for Linden Flowers
Eat the Weeds: Baswood Tree, Linden, Lime Tree
Africa Aid: Making Wild Linden Chocolate
Celtnet Recipes: Linden Nut Chocolate
Celtnet Recipes: Linden Chocolate
Emergency Outdoors: Edible Wild Plants Basswood Linden Chocolate Substitute
(Visited 2,434 times, 8 visits today)
The following two tabs change content below.
I'm an off grid homesteader in rural Vermont and the author of Practical Self Reliance, a blog that helps people find practical ways to become more self reliant.
Latest posts by Ashley Adamant (see all)