Walking in the woods a few years ago I came across a tiny, brightly colored spiky pod mixed in with the leaves. I bent down to investigate and found that the forest floor was covered with them, all around a particular tree with grey smooth bark.
A little research, and I learned that I'd found beechnuts. Historically, they were a popular food source in both Europe and America, but these days hardly anyone's ever heard of them. That's largely because they're difficult to harvest mechanically, and they are not nearly as large as the nuts that grace our modern tables.
For foragers, they're a fall goldmine of healthy calories. With roughly 50% fat and 20% protein, beechnuts can help balance out a foragers diet that this time of year is heavy with apples and other sugary carb laden fruits. To compare, acorns are only about 7% protein.
Beechnuts have a spiky exterior husk that pops open when ripe, revealing two small nuts, each oddly shaped with 3 pointed sides. Inside the outer husk, the seeds have a fiberous inner shell, that you can easily remove with a fingernail or by vigerously rubbing them between two towels.
They ripen and fall in late September in Vermont, and if you wait until mid-October like I did this year they're mostly hidden under leaf litter and much harder to find. Still, rake back the leaves under a beech tree and you'll spot the distinctive pods.
The nuts themselves have a slight tannin taste, but that didn't stop my 2-year-old from gobbling up as many as she could find. While food bloggers have to fight to keep their kid's hands off the cookies while they're taking photos, this mama blogger has to watch out for tiny hands sneaking in to steal beechnuts.
Sneaking a few raw beechnuts is fine, but for the most part, they need to be cooked before eating them. Raw they contain the toxin saponin glycoside, which can cause gastric issues if you eat a large quantity of raw beechnuts. Some Native American tribes have long eaten them raw without ill effect, so their toxicity level is a bit subjective by the individual. Roasting improves their flavor and destroys the toxin at the same time.
To identify a beech tree, look for a tree with smooth grey bark. Follow the trunk up to find ovate leaves with points along the sides, about 2 to 6 inches long. The leaves are shiny green in the summer, and turn copper colored in the fall. They have distinct pairs of veins coming off a central vein, each ending in a tiny point at the leaf edge.
The bark sometimes has scales or fissures because of beech scale disease, and diseased trees will produce substantially fewer nuts. Beech scale disease will also cause the tree to produce nuts with empty seed shells. You'll pull off the velcro outer casing, and then remove the inner shell with your finger nails, only to find that the seed is empty.
Beech scale disease is actually two different pests that form a positive feedback loop. A tiny scale insect, called Cryptococcus fagisuga wounds the bark, and then those wounds are colonized by two different types of fungus, Neonectria ditissima and Neonectria faginata. It's the fungus that eventually kills the tree. The problem is, once the cycle is started it's hard to reverse. The fungus makes larger wounds in the bark, which allows more insects to colonize, which in turn allows more openings for the fungus.
Beech trees can be tapped for syrup, just like maple trees. Tapping trees involves injuring the bark though, and I've been reluctant to try because I didn't want to a site of potential infection.
Unlike other tree species, which are going extinct as a result of their non-native diseases and pests, the beech is still going strong. It's killed back from the top, but generally recovers and suckers up from the bottom. The downside, however, is that as this disease progresses, the trees produce more and more empty beech nut shells. That's less for the birds, deer and human foragers to find on any given woodlot.
If you're curious about the specifics of the scale insect and associated fungus, this article from Northern Woodlands is a good summary. For the best beechnuts, look for the smooth grey trunk of a healthy beech tree.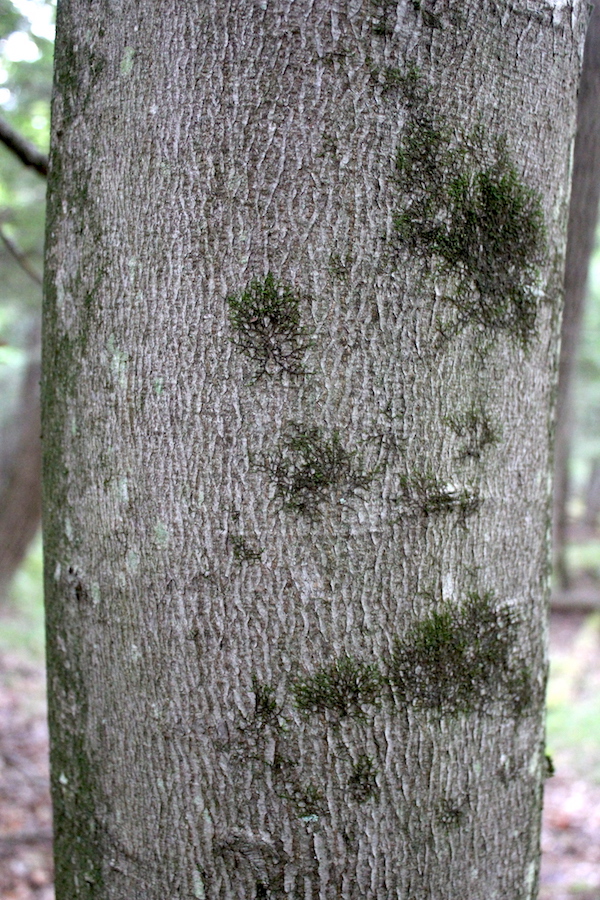 Processing Beech Nuts
Processing the pods is pretty straightforward. The nuts can be husked by hand quickly and easily by rubbing bunches of them between towels and then picking out the husks. The husks do have spikes, but unlike chestnut husks, they're not particularly sharp. More like velcro than spikes. After that, they're roasted in a pan about 3-5 minutes until fragrant and toasted.
In Farmer Boy, one of the Little House on the Prairie books, Almonzo goes off into the woods with a wagon to gather beechnuts, and then they're processed through the same thresher that the family uses for oats, beans and grains:
"'What say we run some beechnuts through?' Father asked. So they pitched beech leaves into the hopper, and now the whirring fans blew away the leaves, and the three-cornered brown nuts poured out. Almanzo filled a peck-measure with them, to eat that evening by the heater."
Cooking with Beechnuts
Though in the US beechnuts are mostly considered a foragers novelty or a survival food these days, in Europe beechnuts are still used for cooking. The french press out the rich oil for flavorful salad dressings at a rate of about 1 quart of oil to 10 pounds of nuts. They also roast and grind the nuts into a coffee substitute, that according to some is one of the best you can forage.
Historically in the US, beechnuts were ground into flour and cooked into cakes. Settlers extended the life of their flour by replacing half of it with beech flour in cakes, and at the same time got a more flavorful and nutritious cake as a result.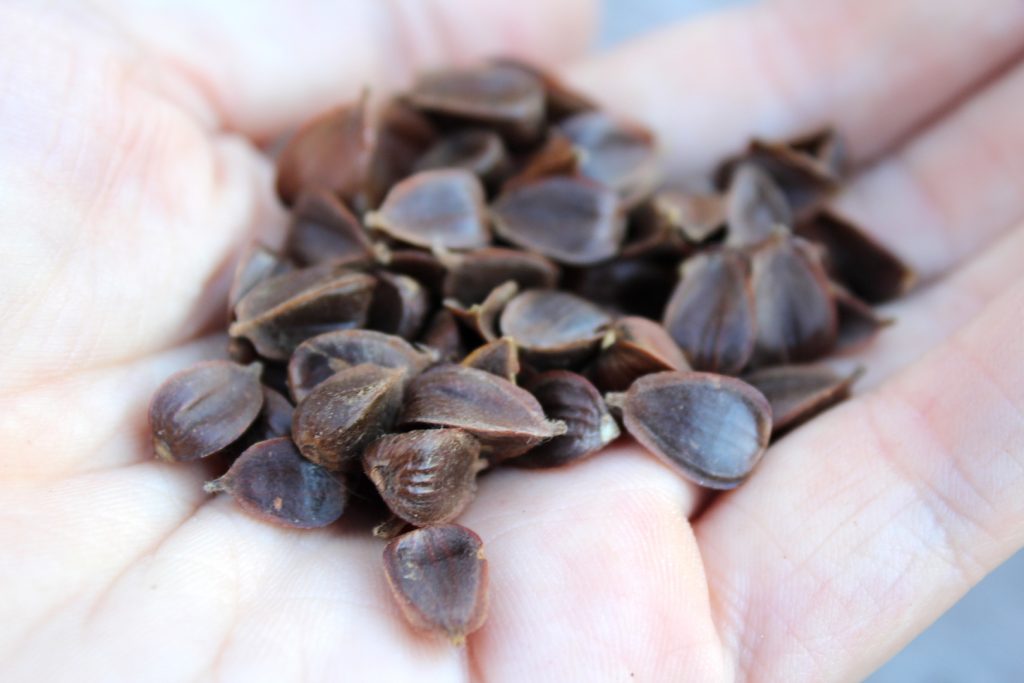 Recipes for Cooking with Beechnuts
This wild stew from Wild Blessings includes beechnuts as well as nettle leaves and evening primrose flower buds.
Here's a tutorial on how to make Beechnut Butter.
I've also found a couple more substantial recipes for beechnut baked goods, and I'll keep looking for more historical sources and post them here as I discover them.
Beechnut Muffins Recipe
Adapted from Edible Wild Plants of Pennsylvania and Neighboring States
This recipe makes a savory muffin that's more like a rich buttery dinner roll than what we think of today as a sugary muffin. Note that there's no added sugar.
1 Cup Beechnut Flour
1 Cup Cornmeal
1 Cup Flour
3 tsp. Baking Powder
1/2 tsp. Salt
2 eggs, beaten
1 1/2 Cups Milk
2 tsp. Butter, melted
1/2 Cup Beechnuts, chopped
Mix dry ingredients in one bowl, and beat wet ingredients together in a separate bowl. Add the wet ingredients into the dry ingredients, and then add in the chopped beechnuts. Pour into prepared muffin pans (greased or with muffin cups) and bake for 20 minutes at 375.
Oatmeal-Beechnut Pie Recipe
Adapted from Edible Wild Plants of Pennsylvania and Neighboring States
This recipe makes a pie that's a bit like a traditional pecan pie, but it's thick and chunky with oats and coconut along with your wild foraged chopped beechnuts.
1/2 Cup Beechnuts, finely chopped
3 Eggs
3/4 Cup Rolled Oats
1/2 Cup Butter, Melted
1/2 Cup Coconut, dried and shredded
1 Cup Maple Syrup
3/4 Cup Cane Sugar (do not use beet sugar, pie will not set)
1 pie crust in a 9 inch pan (unbaked)
Beat the eggs, and combine all ingredients in a bowl. Pour into a pie shell and bake at 350 for 45 minutes.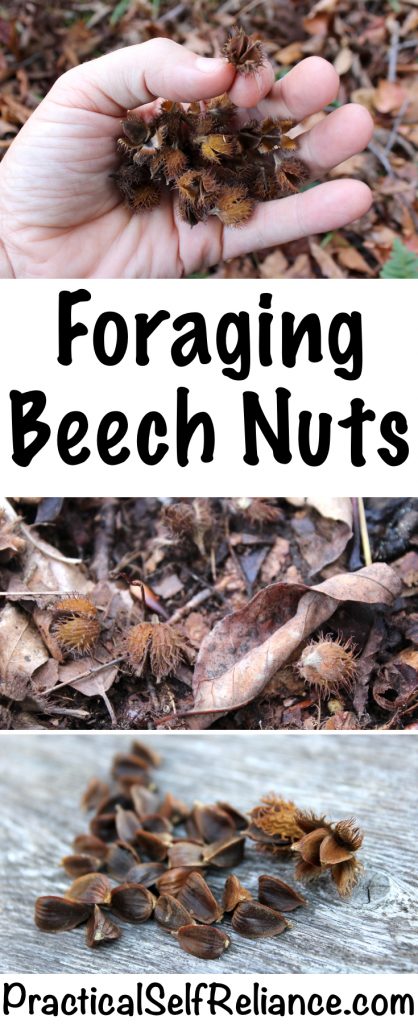 The following two tabs change content below.
I'm an off grid homesteader in rural Vermont and the author of Practical Self Reliance, a blog that helps people find practical ways to become more self reliant.
Latest posts by Ashley Adamant (see all)