Grapes are one of the easiest perennial food plants to propagate from cuttings.  In many cases, just taking a dormant cutting with a few buds attached and sticking it in the ground will suffice to start a whole new plant.
There are many ways to propagate grape vines including: Hardwood/Dormant Cuttings, Greenwood cuttings, grafting, layering and from seed.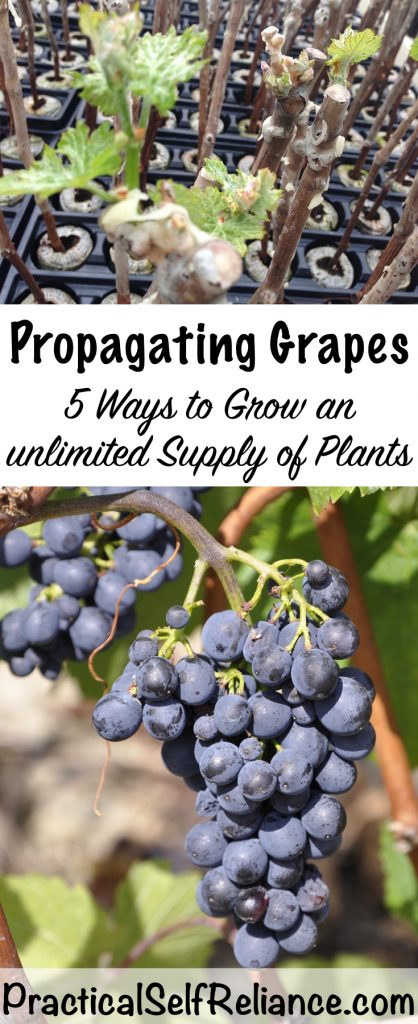 Propagating Grapes from Hardwood or Dormant Cuttings
Hardwood propagation is the most common method, though there are a select few types of grapes that cannot be propagated using hardwood cuttings (ie. muscadine).  Each year during the dormant season, grapes should be pruned to ensure a healthy crop the following year.  The discarded cuttings from a single vine can be used to produce dozens of new plants each year.
Cuttings 12-18 inches in length with 3 or more buds are taken from plants when dormant and stored in a cold moist environment until the beginning of the growing season.  Shortly before the beginning of the growing season, prepared cuttings are either calloused to induce root growth (exposed to prolonged moist heat to cause the cut base to begin to heal and generate stem cell like tissue that can develop into roots) or simply dipped in
rooting hormone
and placed in the soil.  Cuttings using dormant wood should have an 80% or greater success rate.
More information on propagating grapes from dormant cuttings can be found here:
Mike's Backyard Nursery: Propagating Grapes from Hardwood Cuttings
Bunch Grapes: Growing Grapes from Cuttings
Deep Green Permaculture: Propagating Hardwood Cuttings
Propagating Grapes from Greenwood Cuttings
Greenwood cuttings, or cuttings from actively growing vines, can also be used for propagation.  Greenwood cuttings have the potential to dry out, and are a less reliable method for beginners.  There are a few reasons why you might choose to propagate from greenwood cuttings:
– You want to begin propagation and it's the summer
– A friend or neighbor offers you greenwood cuttings
– You want to propagate a lot of grapes in a single year (once established and growing you can take cuttings from your cuttings and produce literally thousands of individual plants in a single year)
– You're trying to grow a type of grape that doesn't grow successfully from hardwood cuttings.  Some examples include muscadine grapes (Vitis rotundifolia) or pigeon grapes (Vitis aestivalis) which have a 1-2% success rate from dormant cuttings but roughly 70% success rate from green cuttings)
Cuttings 4-6 inches long are taken during the late spring until late summer from healthy vines.  All but a single leaf is removed to minimize water loss.  Dip the cut end in rooting hormone, plant in potting soil and in a warm, humid environment.  Plants should begin to develop roots in 1-2 weeks.
More information on propagating grapes from green cuttings can be found here:
Propagating Grapes by Layering
Layering, or burrying a portion of an established vine until it takes root, is a quick way to produce a few new vines during the growing season, and may be the easiest method for the home gardener.  It's occasionally used in a commercial setting to use a neighboring vine to replace a dead vine within a row.
Choose a parent plant and bend a young, still flexible 1-3 year old vine near the ground level until it reaches the ground.  Burry a portion of the vine beneath the soil, ensuring that the end of the vine is left above ground, and at least 1 node is below ground.  Grapes root more easily at nodes.  The grape should form roots within a few months, and can be separated from the parent plant once it is well rooted.
More information on propagating grapes by layering can be found here:
Propagating Grapes by Grafting
Since grapes are willing to root from cuttings, grafting is not often used by home growers.  There are occasions when a commercial grower has a particularly desirable grape variety and wants to establish them on more vigorous or disease resistant root stock.  Grafting can also be a good way to quickly replace an established vine with a more desirable variety.
Detailed instructions for grafting grapes can be found here:
Propagating Grapes from Seed
Grapes are generally propagated "clonally" so that they are "true to type."  Grapes can be propagated from seed, but they will not be identical to the parent plant.  Growing grapes from seed is an important tool for grape breeders and those interested in developing their own variety or grape. It can also be a fun experiment for the home gardener, because you never quite know what you'll get.
Grape seeds can be collected from seeded grapes, cleaned and stored in a moist paper towel or directly in soil in the refrigerator for 3 months.  After cold stratification in the fridge, the grapes will germinate into new plants.
More information on growing grapes from seed can be found here:
(Visited 5,365 times, 8 visits today)
The following two tabs change content below.
I'm an off grid homesteader in rural Vermont and the author of Practical Self Reliance, a blog that helps people find practical ways to become more self reliant.
Latest posts by Ashley Adamant (see all)