Honeyberries are a type of fruiting honeysuckle that tastes like a cross between a blueberry and a grape. For cold climate gardeners, honeyberries are a dependable source of early spring fruit. They fruit very early, well before the first strawberries. They're extremely cold hardy, growing and producing fruit where winters hit 40 below.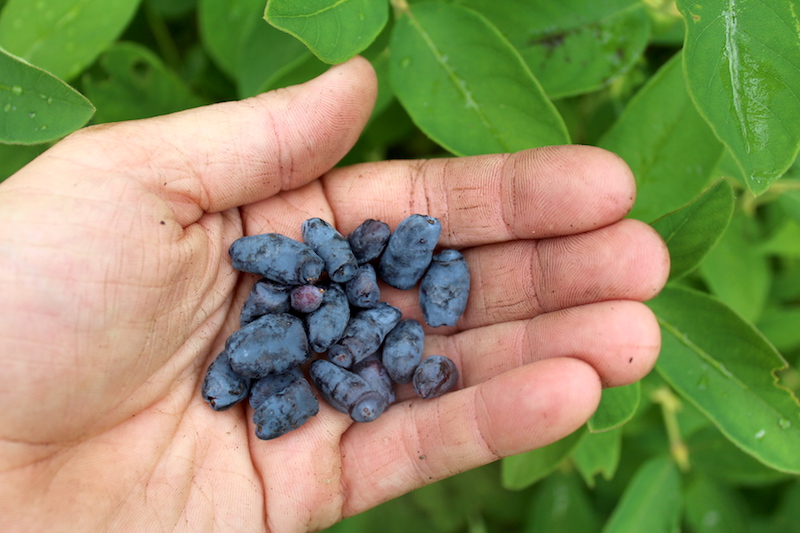 Though they've been grown for hundreds of years in cold climates like eastern Europe, honeyberries are become especially popular in permaculture gardens because of their low maintenance needs. Early fruiting and flowering also help to provide harvests for a longer period, as well as provide good early season bee forage.
Honeyberries (Lonicera caerulea) are also known as haskap berries, blue-berried honeysuckle or sweetberry honeysuckle. They're related to honeysuckle, and that's easy to see when you look at honeyberry flowers.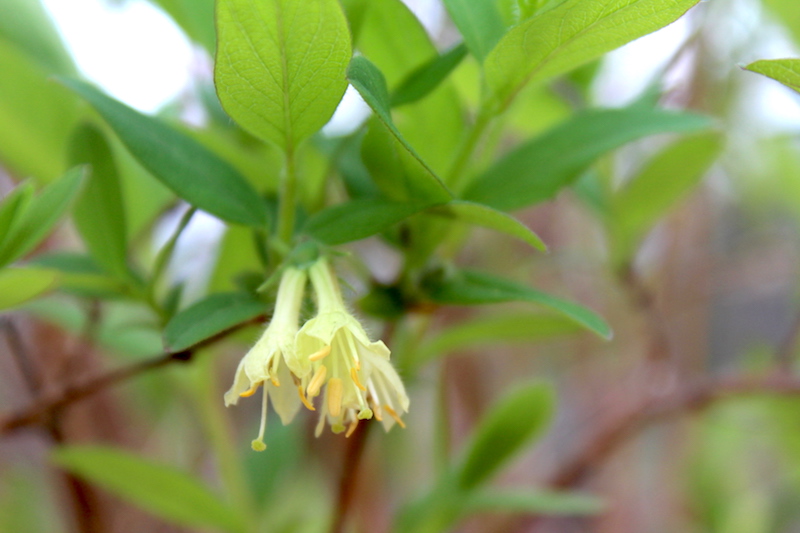 Hardiness
While hardiness varies by the variety, honeyberries grow best in zones 2, 3 and 4. They need a cold winter dormancy each year. Some varieties will grow and produce in climates as warm as zone 8, but for the most part, they were bred for cold weather and that's what they need.
Soil Type
Honeyberries aren't picky about soil type. They have been known to do well on clay soils where other crops have failed. Ours are a prime example, growing in about 6 inches of mediocre topsoil above a hardpan layer of dense clay. Under ideal conditions, they'd grow in loam with a pH of about 6.5.
Weeding
While they don't require particularly deep or fertile soils, they do benefit from a heavy supply of leaf mulch. Honeyberries are shallow rooted, with the majority of their roots in the top 5-7 inches of soil. Weeding and cultivating the topsoil around their base can damage their roots, and they can be stunted by over competition with weeds.
Keeping roughly 2 inches of leaf mulch around each mature plant will help prevent weeds, and promote a healthy root system.
Varieties
Honeyberries can be started from seeds, cuttings or established transplants. Here are a few of the commercially available varieties:
Pruning
Fruit is produced on 1-year-old wood, and the highest yields come from strong, vigorous 1-year-old branches. Honeyberries should be pruned when they are dormant in the winter months, removing any dead branches. For the first 5 to 7 years, allow the plant to grow as much as possible. Mature plants can be between 3 and 6 feet tall depending on the variety, and it takes a while for them to achieve full size.
Once the plants are full size, prune them annually to maximize 1-year-old wood and remove old or damaged branches. Older branches can shade new growth, and prevent good crops. By pruning the bush back, you're encouraging sunlight penetration to all the productive branches.
Avoid cutting back the tips of branches, as that's where the most fruit production occurs.
Fertilizing
While the plants are hardy, and vigorous in mediocre soils, they produce best with fertilizer or organic manure. If you're choosing to apply fertilizer, a balanced 10-10-10 fertilizer is a good choice. Apply in very early spring or fall. Otherwise, go with 2 inches of well-rotted manure per year.
Pollination
The one place where honeyberries are particular is in pollination. To produce fruit, you need at least 2 different honeyberry cultivars. Ideally, you'd have at least 5 bushes planted near each other, with as many different varieties as possible. Here's a really handy chart that covers honeyberry pollinator compatibility, and tells you which varieties are good pollinators for others.
They're bee-pollinated, and with their early flowers, they provide much-needed food for native pollinator bees. A favorite of bumblebees, and ours are full of buzzing bumbles in the early spring.
Harvesting Honeyberries
One of their main benefits is the fact that they fruit so early in the spring. They produce around 2 weeks earlier than the first strawberries. They'll fruit for 2 to 3 weeks a year, and after that, they're attractive bushes for the remainder of the summer.
Unlike other perennials, honeyberries can be productive in their very first year. They go on to produce berries for 30 years or more with benign neglect for management.
The berries are easy to pick with a gentle hand. A bit softer than blueberries, but firmer and more durable than raspberries. Pick them by hand into a basket and use them within a few days. They also make excellent preserves.
Honeyberry Recipes
Honeyberries work well in place of blueberries in most recipes. Try any of these honeyberry dishes:
Honeyberry Pear Crisp – Grit Magazine
Orange, Honeyberry and White Chocolate Bread – Artisans Des Saveurs
Honeyberry Wine – University of Saskatchewan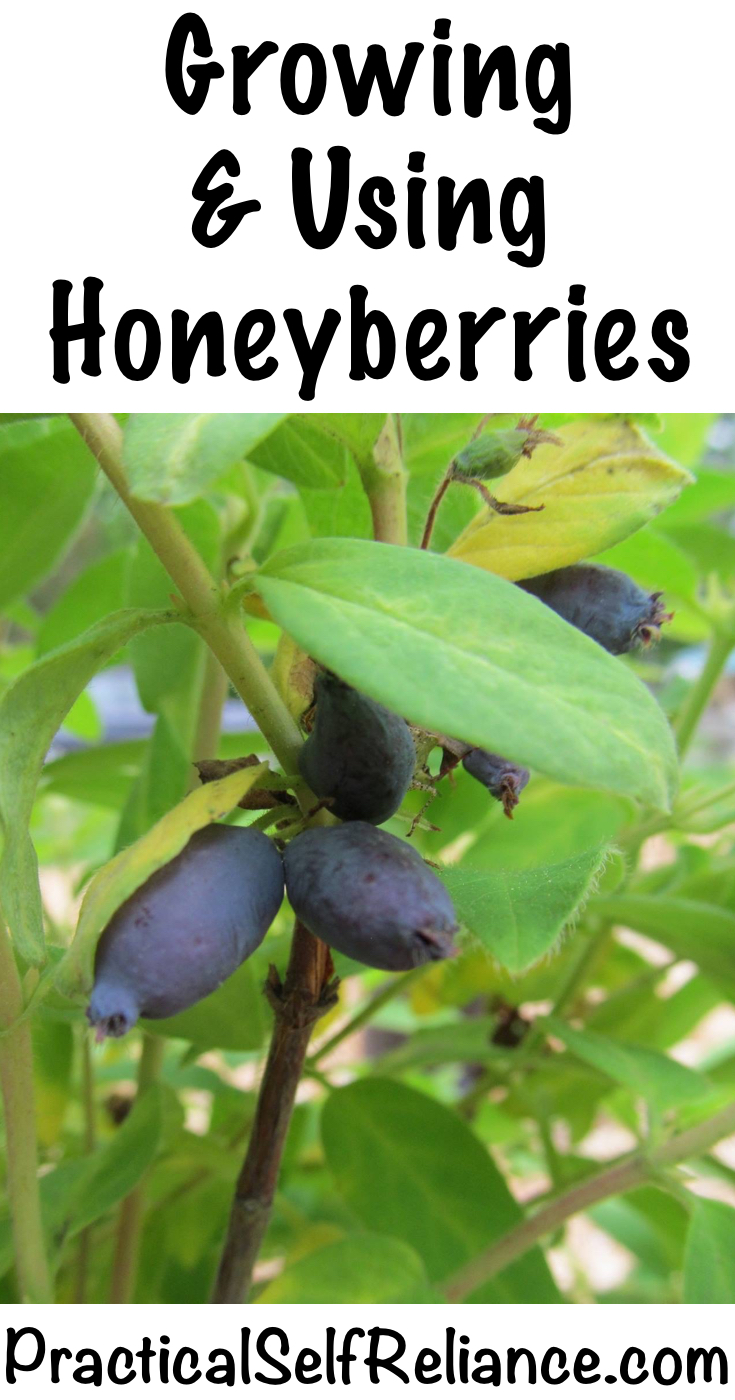 The following two tabs change content below.
I'm an off grid homesteader in rural Vermont and the author of Practical Self Reliance, a blog that helps people find practical ways to become more self reliant.
Latest posts by Ashley Adamant (see all)